Raw Footage Of Afghan Police Harassing Cross-Dressed Man, Forcing Him To Strip Goes Viral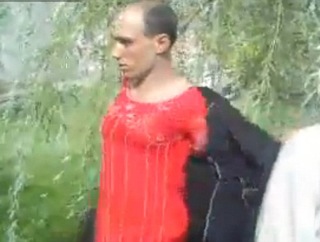 Afghanistan has never been known as a paragon of excellence in the human rights realm, but this recent video of Afghan police humiliating a man dressed in make-up and women's clothing for their own amusement truly brings that reality home. The video– which, the Daily Mail notes appears to have come from an Afghan news source– shows the man pleading to be released and protesting his innocence of any crime while the police make him remove outer clothing and fake breasts.
RELATED: BBC Journalist Killed In Afghanistan By NATO Forces
The police stop him in the video and demand him to remove his clothing, though it is not clear whether the officers question him about any crimes– other than homosexuality or cross-dressing, which are both crimes in Afghanistan. According to the Daily Mail, the man demands not to be ridiculed but is ignored, and later questioned:
According to the Guardian, the officers then deliver a barrage of questions to the transvestite and a second man who is arrested.

They ask the pair: 'Why are you dressed like this? Where did you put the makeup on? What is all this about? What have you two been up to?'

As the Afghan cross dresser removes his jewellery, he can be heard to whisper: 'I was shopping for clothes.'

After being near reduced to tears, the second man tells police officers: 'Please, officer, we haven't committed a crime.'
It is not known what has happened to the two men since being arrested.
The disturbing footage below:

Have a tip we should know? tips@mediaite.com