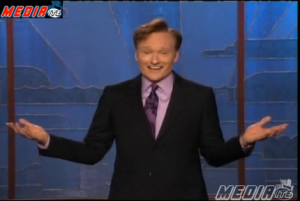 Yes, there were barbs — but tonight, the sign that Conan O'Brien is done with NBC and The Tonight Show was less about twisting the knife in his rivals than hilarious and extremely dirty porn puns. Put it this way: If you were trying to recapture Jay Leno's demo, would you do it with ""The Fistahood of the Traveling Timeslots?"
I don't think so.
Conan didn't go easy on his twin nemeses by a long shot — he opened with "I'm Conan O'Brien, NBC's Employee of the Month" — and did an impression of Leno taking over for him during sex — but he definitely dialed back from the pointed jabs of last night. The jokes erred on the side of the goofy, like, "Do you realize that tha baby born on the day we did our first tonight show is now a slightly larger baby?" and these fake replacement shows for NBC at 10 pm: "Baby Picks the YouTube Clip" "Monkey Picks The YouTube Clip" and "Rock With A Laugh Track." Heh.
He did, however, acknowledge reports that surfaced today that NBC honcho (and fave villain) Jeff Zucker was so furious by Conan's public spitballing that he was threatening to "ice" him: "Everybody knows that NBC and I are having a little tiff right now…there's a rumor that NBC is so upset with me, they want to keep me off the air for three years." [Boos from crowd.] "My response to that is, if NBC doesn't want people to see me, just leave me on NBC."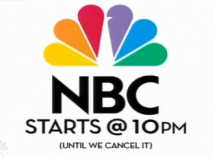 Wait, is that a zing against NBC — or Conan's own lacklustre ratings? No matter; Conan didn't get where he is by missing the signals, and his dial-back was pitch-perfect, including an admission that even he was getting tired of it all. Even so, after hitting other news-notes in the monologue he came back with the doozy, and what I believe was the "fuck it" moment in the writer's room: Porn names to describe the situation. "Two Hosts, One Slot," "Conan The Bang-barian" "Laid Night With Jimmy's Phallus," the previously-mentioned "Fistahood of the Traveling Timeslots" and "In The Rear 3000" — this is not only the kind of stuff Leno would never run, it's also the kind of stuff that delights the Team Conans on Twitter but not so much that shadow audience that NBC is desperate to recapture. But who cares. They're leaving, and "Fistahood" is damn funny.
So was Conan's monologue. In this late-night war, the timeslot and the contract may be the stakes, but for comedians, the real contest is about one thing: Who's funnier? Hands down, Conan has been the clear winner. Alas, that's a pretty Pyrrhic victory for someone who's about to lose the Tonight Show.
Clip below.


Related:
Leno Pushes Back At Conan As NBC Mess Gets Uglier
Jimmy Kimmel Roasts Jay Leno – On The Jay Leno Show
When Will Conan O'Brien's Tonight Show, And NBC Bashing, End?
Have a tip we should know? tips@mediaite.com