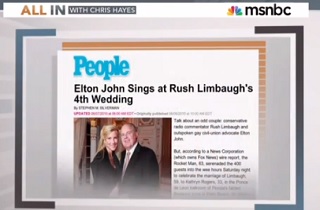 On Monday night's All In with Chris Hayes, notoriously vicious left-wing bomb-thrower Chris Hayes apparently exceeded even his own reputation for smash-mouth, hyphen-necessitating trash-talk when he actually compared famously sensitive radio host Rush Limbaugh with a "brutal, repressive dictator."
As a loyal reader of right-wing media watchdog Newsbusters, I was outraged that Hayes would do such a thing, on the very same night I watched him make a satirical, offhand quip about the very same guy!
As I was watching the third entry in Monday night's patented "#Click3" segment of All In, I chuckled at Chris Hayes' self-conscious joke about liberal angst at Rush Limbaugh. Explaining that Jennifer Lopez had cluelessly performed for Turkmenistan President Gurbanguly Berdimuhamedow, unaware of the dictator's human rights record, Hayes quipped that "As one Twitter user put it, on the bright side, Gigli's no longer the worst thing she's done," and added, "Beyonce did sing at a New Year's eve bash entertaining the family of Muammar Gaddafi, and Elton John performed at fourth wedding of Rush Limbaugh."
I also immediately though "This would make a great parody post for a site like Newsbusters."
Visit NBCNews.com for breaking news, world news, and news about the economy
As it turns out, Newsbusters' Scott Whitlock was way ahead of me:
Far-left MSNBC anchor Chris Hayes on Monday night jokingly compared conservative radio host Rush Limbaugh to a repressive, brutal dictator. The host reported that Jennifer Lopez had preformed for Turkmenistan President Gurbanguly Berdimuhamedow.
Hold on, now, in Lopez's defense, Whitlock surely didn't expect her to form right there onstage, did he? The dude paid for a corporeal pop star. It was in the contract.
He then sneeringly compared, "Beyonce did sing at a new year's eve bash entertaining the family of Moammar Gadhafi and Elton John performed at fourth wedding of Rush Limbaugh."
Clearly, Hayes was not making a serious comparison of Rush Limbaugh to Gurbanguly Berdimuhamedow, or Gaddafi, but was instead using satire to examine the degree to which liberals hold Limbaugh a villain. Hell, it was almost a compliment. If anything, Hayes stepped over the line when he compared Limbaugh to Gigli. Come on, man, that's brutal.
This is why I love Newsbusters, because they can be counted on to find the most awesome things that liberals say on TV, and get really, really mad about it. Hayes also blasted Republicans, Monday night, for blocking the Affordable Care Act's Medicaid expansion at the state level, and got another write-up from Newsbusters. I'm pretty sure no liberal blogs posted that clip, but Newsbusters doesn't miss a trick.
The best part of this, though, is that Rush Limbaugh will get to read all about how Newsbusters defended him from that awful meanie, Chris Hayes. You're welcome.
Have a tip we should know? tips@mediaite.com