'Countdown to Cave In': Laura Ingraham Says Matter of Time before 'Liberal Republicans' Win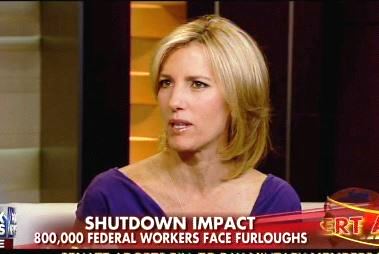 Conservative radio host Laura Ingraham anticipated that it would only be a matter of days before the Congressional Republicans abandon the causes which led to a government shutdown. She called it a "countdown to cave in" because the GOP in Congress will be unable to withstand the pressure from the media blaming the Republicans in Congress for the hardship that ensues during a shutdown.

"It's a matter of time in my mind before the Republicans say, 'We can't keep doing this,'" Ingraham observed. She anticipated a media blitz which covers the shutdown and makes the Republicans "feel the heat" more than the Democrats in Congress will.
"We ran, frankly, a rotten campaign," Ingraham said of Mitt Romney's presidential bid. "He should have won, and he lost." She said that Sen. Ted Cruz (R-TX) unapologetically speaking out against the implementation of the Affordable Care Act spoke to a number of Americans who wished Romney ran a more aggressive campaign last year.
RELATED: 'House of Turds': New York Daily News Cover Skewers Boehner
Steve Doocy observed that the media has not covered Cruz's announcement that he would donate his salary to charity during the shutdown. He then asked Ingraham if she had seen the cover of the New York Daily News calling the GOP in Congress "turds."
"Do people actually believe that the Republicans are going to sit there and keep the government shutdown for two weeks? I don't," Ingraham said. "Liberal Republicans and Democrats run the U.S. Congress."
Brian Kilmeade noted that the moderate Republicans in Congress would be successfully blaming the conservative wing of the GOP for the shutdown.
"It's not the tea party's fault," she added.
Ingraham added that the GOP would fail to convince Congress to abandon the perks for members of Congress and their staffs in the Affordable Care Act. "Special treatment for Washington, the rest of you, you're on your own," Ingraham said. "Good luck in those exchanges."
Watch the clip below via Fox News Channel:
[Photo via screen grab]
— —
> >Follow Noah Rothman (@NoahCRothman) on Twitter
Have a tip we should know? [email protected]