Current TV Disputes Reuters Report They're In Danger Of Being Dropped By Time Warner
In the PR war between Current TV and fired former Countdown host Keith Olbermann, the truth is the first casualty, say sources familar with the situation. Reuters is reporting that several anonymous sources say that Current is in danger of being dropped by Time Warner Cable, and while the network disputed the report in general, our source says that "Reuters' report is completely inaccurate."
From Reuters' Peter Lauria:
According to three sources with knowledge of the situation, Time Warner Cable Inc's carriage agreement with Current TV stipulates that, if the left-leaning political news network fails to meet a minimum threshold for overall viewers in a given quarter, financial penalties such as Current TV being required to increase marketing and promotion spending on the cable operator's systems are triggered.

If Current TV misses the audience benchmark in two consecutive quarters, another clause is triggered that would allow Time Warner Cable to drop the channel.
Time Warner Cable declined to comment on the story, but a spokesman for Current TV tells Mediaite "We do not discuss the terms of our distribution agreements because they are confidential. We are in compliance with all our distribution agreements. And all our agreements are long-term agreements with 2 to 5 years remaining on their terms. We are not at any risk of losing any of our distribution agreements."
Another source familiar with the situation tells Mediaite that "The Reuters report is completely inaccurate," and common sense, along with the balance of that Reuters report, supports that. While the loss of Keith Olbermann has already affected the network's ratings in the 8pm time slot, even Eliot Spitzer's poor initial ratings are well above what the network was drawing in 2010, when their distribution deal with Time Warner was reportedly signed.
Additionally, the network has reported very strong initial ratings for its recently-launched morning block. According to Current, Talking Liberally: The Stephanie Miller Show is up 150%, and Full Court Press: The Bill Press Show is up 200%, versus the 1st quarter of 2012.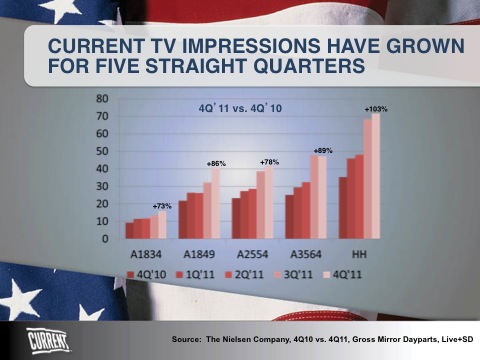 But perhaps the sleeper success of Current TV, and a big part of why they felt comfprtable playing chicken with their star, is Cenk Uygur and The Young Turks, who, aside from beating Countdown in the key demo in Olbermann's last week, has seen steady growth in the 7pm timeslot, increasing their household ratings by 29%, and surpassing the previous month's performances in ratings and total viewers, in the first three months of this year. Not for nothing, Cenk and company were beating Olbermann in the demo while operating on a much smaller production budget, while Olbermann was refusing to use his quarter of a million dollar set.
As the Reuters report notes, Keith Olbermann gave Current TV an instant jolt in their ratings, comparatively, and there's no doubt that duplicating those numbers is going to be a challenge for the network, but they're still miles ahead of where they were in 2010, when these deals were reportedly signed. Reuters isn't saying, but it isn't too hard to guess whose bitter fingerprints are all over this leak. Current and Time Warner are still parties to the strictly confidential deals.
Olbermann has also taken to the gossip pages of the New York Post, a case of strange-but-not-really bedfellows, to trash his old employer, and to push back against reports of diva-like behavior (more on that later). But just like the smoke and mirrors of this Reuters leak, Olbermann's defense disappears under the slightest scrutiny. For example, of the report that he went through car services because of complaints about the drivers, he tells Cindy Adams "Cars weren't being paid. We didn't fire them. They fired us!"
Note the careful phrasing. He doesn't say "Current wasn't paying the car service," he says they "weren't being paid," which could be because, as a Current source told Mediaite, Olbermann refused to sign the voucher.
Olbermann pays lip service to feeling bad about his co-workers, but there are still many good people working at Current who have never had a cross word for him, and whom he's hurting with this campaign against his former employer.
Update: Dan Lauria, via Twitter, seems to be mad that I didn't call him to see if he would give up his sources to me:
Hey @mediaite @tommyxtopher @danielabrams, U swallow Current TV spin so hard while speculating on my sources with no call 2 me. Nice! I expect more from an outfit that I consulted for..something along the lines of respect maybe..@mediaite @tommyxtopher @danielabrams
I meant no disrespect. In fact, by presuming that Lauria would protect his sources, and had negotiated the tightest possible attribution, I thought I was showing him respect.
Update 2: Dan Lauria stands by his reporting.
Have a tip we should know? tips@mediaite.com