MSNBC Panel Tackles Romney's 'Man Problem:' He 'Seems Like He's Not The Typical American Male'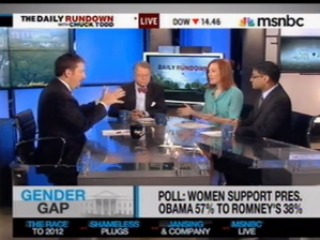 On Tuesday, Daily Rundown host Chuck Todd spent a little time on the "war on women," pointing to a Washington Post/ABC News poll showing that, in a general election match-up, President Barack Obama would take in 57 percent of women's votes versus Mitt Romney's 38 percent.
Todd then read from a piece by Stuart Rothenberg. Here's the relevant except, via Hot Air:
Anyway, all of the attention on the changing views of women in this age group during the past month might miss a much larger, more important development that has gone largely ignored. Both of Gallup's national polls and Swing States surveys for USA Today confirm that during the past six months, the more dramatic change in presidential preference has been among men, not women.

In October, Gallup's national poll found that Obama led Romney by 14 points among women (54 percent to 40 percent). That margin shrunk only slightly, to 12 points, in March. But among men, Romney's 16-point advantage in October shrunk to just 3 points in March…

Clearly, Romney can't win the White House if he is winning only 40 percent of female voters nationally or 36 percent of female voters from the 10 swing states. But it's equally true that Romney can't defeat Obama if the Republican carries men by only 3 points (as he does in Gallup's most recent national poll) or by a single point (as he does in the most recent Swing States survey).
RELATED: Rachel Maddow Calls On GOP To Appoint Sen. Murkowski 'War On Women' Spokesperson
Former Obama deputy communications director Jen Psaki characterized the upcoming election as a decision between Obama and Romney, who simply "doesn't get it" when it comes to issues that matter to women.
Todd then pointed out that it seems Romney has "a man problem," perhaps even more than he has a "women problem." Panelist David Hawkings of CQ Roll Call agreed. "It seems like he's not the typical American male," he said, describing Romney's much-discussed issues with "likability."
National Review's Ramesh Ponnuru added that, if you're a Republican candidate, chances are you're just going to end up doing better with male voters. He reminded the panel that former Democratic candidate John Kerry won "the female vote"… and didn't exactly saunter into the White House because of it. "The problem isn't the size of the gap," he continued, "the problem is how he's doing overall." That said, he believes that, once the grueling GOP primary is over and done with, Romney's numbers with women will improve in a general election against Obama.
Watch, via MSNBC:
Have a tip we should know? tips@mediaite.com