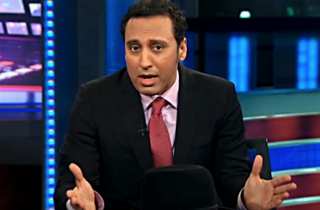 The social media uproar over incoming Daily Show host Trevor Noah's history of Twitter jokes about Jewish people and overweight women is "much ado about nothing," says the show's star correspondent Aasif Mandvi.
Aside from Comedy Central brass and Noah himself, The Daily Show affiliates have been largely silent on the matter over the last 24 hours, but Mandvi gave his thoughts Tuesday evening during a LinkedIn Discussion Series event in New York City.
"What do you think about how [Noah]'s been getting beaten up lately over some social media stuff he did years ago?" LinkedIn executive editor Dan Roth asked the comedian.
Mandvi's full response (emphasis added):
I think its more a question about Twitter. I think it's much ado about nothing, first of all. The guy made some sort of, you know, off-color, irresponsible tweets, but he was trying to be funny. I think the Millennials understand this more than the people who are sort of upset about this. Which is this sense of, what is Twitter in our culture? Is Twitter just a constant sort of — is it just disposable? You know what I mean? There's gonna be a presidential candidate 25 years from now, who's gonna be running for president. Are we going to go back and look at his Twitter feed from when he was 14 years old? Because he's gonna have a lot of really stupid things in there, you know? So, how much are we responsible for what we say on Twitter five or 10 years ago? I don't know. It's a question and I don't have the answer, but it feels to me like, are we gonna hold artists, comedians, whatever it is, responsible for stuff they say on Twitter? You can if you want, but I don't know what that means about our culture, you know? I don't think we've quite decided, what does Twitter mean? Because you could read that and act like he said that yesterday, and it defines him now. Do we all want that? You know what I mean? Do you want your kids going into a job interview and being defined by the Facebook post they put on Facebook when they were 15?
He later continued with a punchline:
Look, I don't know Trevor — I met him a couple times, he seems like a great guy, I trust Jon Stewart. Jon seems to want him to take over, so I trust that. I think the only way we're gonna know is once he does the job. And look, once a month, we have Katz's Deli deliver food to the Daily Show. If he cancels that, then he's anti-Semitic. If we don't get the Katz's Deli, he hates Jews!
And as for whether Mandvi ever wanted to be in the running to replace Jon Stewart, the correspondent said, "Nobody came to me with any conversation about it." He added that "it's a daunting job to take over from the king of satirical news comedy, so, in a
weird way, it's one of those things where I'm glad they didn't come to me."
"Clearly, it would be an incredible opportunity," he continued, "and also there are other things I want to do in life, you know? I'm an actor. I want to write, and act, and do movies, and produce and all that stuff."
His conclusion: "I was never really gunning for it or chasing it, and we never had that conversation."
Watch below, via Mandvi's article for LinkedIn:
— —
>> Follow Andrew Kirell (@AndrewKirell) on Twitter
Have a tip we should know? tips@mediaite.com