Dan Abrams: Casey Anthony's Defense Strategy Is To Make Her Father The Villain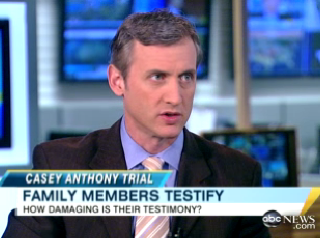 As the murder trial of Casey Anthony rolls on, her attorneys have been attempting to shift the spotlight from her behavior after her child died to her father, who Anthony has accused of, among other things, sexual assault. On Good Morning America today, Mediaite founder and ABC legal analyst Dan Abrams proposed that it is precisely this emphasis on her father that has the prosecution calling him to the stand repeatedly, to acquaint the jury with him enough to trust him.
While Abrams told GMA's Dan Harris that he didn't see a "smoking gun" in the case but, rather, the combination of "the car and the odor and the lies and the duct tape" may be enough to construct a compelling argument, and the defense doesn't have it easy in weakening that argument. As they have made Casey's father, George Anthony, such a critical point in their case, the prosecution has now taken him to the stand repeatedly. Usually, Abrams explained, "you call a witness, ask him about everything," but "prosecutors have now called george anthony on the bench 3 times… they want to have the jury get to know him." This, he notes, is a direct response to the defense's strategy to "make him the villain– he's the guy who the defense is saying sexually abused Casey as a child."
No matter how many times George Anthony takes the stand, Abrams argued that it is becoming increasingly difficult for Casey herself to avoid taking the stand. "When the defense is the reason she behaved the way she did after her child died [is her father]… who else is going to explain that?" he concluded.
The segment via ABC below:

Have a tip we should know? tips@mediaite.com