Dana Loesch Hits Obama Campaign During CNN Panel: 'Who's Running That Clown Car?'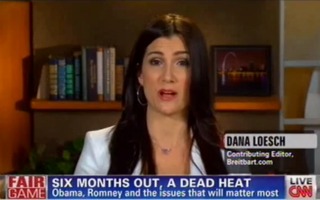 In a panel debate on CNN, Brietbart.com editor Dana Loesch and Democratic strategist Robert Zimmerman debated the efficacy of President Barack Obama's reelection campaign's attacks on Bain Capital. Loesch questioned the Obama campaign's decision to run with attacks on Bain and asked "who's running that clown car?"

RELATED: Breitbart.com's Dana Loesch: Romney 'Acting Outraged' Over Aborted Rev. Wright Attack
Zimmerman said that any political debate in which former Massachusetts Gov. Mitt Romney is described as a "vampire" or President Obama is described as a "socialist" does a disservice to the political debate. However, Romney's policy positions are fair game.
Romney's criticism of the bailout of the automotive industry shows, in Zimmerman's opinion, that he does not have the "leadership or skills to create jobs."
Loesch laughed at Zimmerman's assessment of Romney's political position. She went on to criticize the Obama campaign's attacks on Bain,. Loesch said those attacks mirror attacks waged by former House Speaker Newt Gingrich during the Republican primaries but were executed in an "even poorer fashion" by the Obama team.
I'm really confused as to why the Obama campaign even chose to go this route. Newt Gingrich did this over winter. We all saw Newt Gingrich's attack on Bain Capital and how that blew up the right side of the political sphere. People criticized Newt Gingrich for going after capitalism. Why the Obama campaign chose to do it – and execute it in an even poorer fashion than Gingrich did – I have to ask who's running that clown car.
Watch the segment below via CNN:
Have a tip we should know? tips@mediaite.com