David Axelrod Blames 'Media Fascination' And Not Trump For Birth Certificate Controversy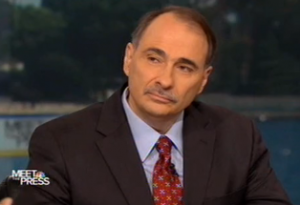 Despite Donald Trump being the loudest and most public face of the "Birther" movement, David Axelrod, advisor for President Obama's re-election campaign, was quick to point out to David Gregory that it was actually the news media that forced Obama to release the long-form birth certificate and not Trump. Although Axelrod was happy to allow Trump a "little ego boost," sarcastically saying he needs that.
Axelrod informed Gregory why he was disappointed with journalists and how they have covered politics as of late:
"Donald Trump didn't make the decision to put himself on a split screen. Donald Trump didn't make the decision to cover this over and over and over again once he raised the issue. . . . The President did an interview, answered a lot of questions about [the deficit], got one question on the Birther issue, and on the evening news that night, that was what led the news. And at that moment the President said, 'you know what we've got to put a stop to this' and he wanted to make the point that we have more important issues in this country and we ought to move on. And the point was as much, frankly David, to your industry as it was to anybody else."
If Axelrod was hoping that such a scolding about Gregory's "industry" would be enough to save him from any further questions about the birth certificate, it wasn't. Gregory later followed up asking if releasing the birth certificate now was designed to elevate Trump to be the face of the Republican party? Axelrod reminded Gregory of his argument that Obama was frustrated with the "media fascination" regarding this issue and that it had nothing to do with Trump. Finally, on the issue of whether such continued questions about Obama's background suggest racism, Axelrod refused to answer the question he deemed "not worthy." Instead, he concluded that all Americans, no matter their race, found it offensive that the President of the United States needed to show a birth certificate.
Watch the clip from NBC below:

Have a tip we should know? tips@mediaite.com