Update: Station Fires New Local News Anchor Whose First Words On-Air Were 'F*ckin' Sh*t!'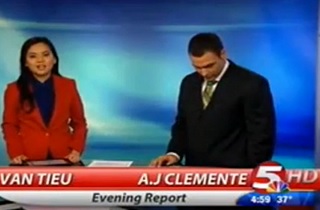 They say you don't get a second chance to make a first impression, which is probably fine by one local broadcaster. In what may have been the shortest news-anchoring gig ever, A.J. Clemente began his career with Bismarck, North Dakota NBC affiliate KFYR with the tired old news cliché "Fuckin' shit!"
Anchor Van Tieu introduced an oblivious-to-camera A.J. Clemente, on the heels of his profane declaration, as her "new weekend news anchor," at which point a still-muttering Clemente noticed he was on, and tried gamely to deliver a quick bio:
Deadspin managed to capture a few of A.J.'s tweets before his account was deleted:
Admittedly he was a bit nervous beforehand, and admitted so on Twitter:

Alright News Director and GM checking out my tape that we shot yesterday. Seeing if i amready for anchoring…..Awkward Turtle…….

— A.J. Clemente (@ClementeAJ) April 21, 2013

His postmortem was brief.

That couldn't have gone any worse!

— A.J. Clemente (@ClementeAJ) April 21, 2013
The March 30 cache of Clemente's Twitter account, however, contained a tweet from several weeks ago that was oddly prophetic:
h/t Deadspin
Hopefully, the folks at the station are in a forgiving mood, but A.J. has a few things working against him. He might have been able to get away with working this blue in South Dakota, but in North Dakota, they don't play that. Just in case things don't work out for Clemente at KFYR, however, here's Alex's video resume, including stints at West Virginia's WVU and KDKA, as Alex Borrero:
Good luck, A.J., and in the immortal words of Ernie Anastos…well, you probably know the rest.
Update: Unfortunately, A.J. announced, via his restored Twitter feed, that the station didn't have enough of a sense of humor about the incident to keep him on:
Unfortunately KFYRTV has decided to let me go. Thank you to them and everyone in ND for the opportunity and everyone for the support.

Rookie mistake. I'm a free agent.Cant help but laugh at myself and stay positive.Wish i didnt trip over my "Freaking Shoes" out of the gate.
Have a tip we should know? tips@mediaite.com