Dem Rep. Rips Military Over Facebook Page Demeaning Female Marines: System 'Rigged' On 'Behalf Of Predators'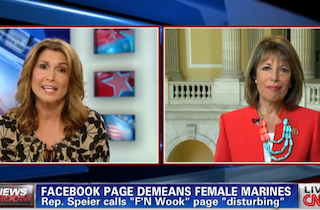 Rep. Jackie Speier (D-CA) spoke with CNN's Carol Costello on Wednesday about the "disturbing" Facebook page demeaning female Marines. The page, which has since been shuttered, included photos of women alongside jokes touching on topics like rape and domestic abuse. Speier criticized the military response, arguing that the "system is rigged" on behalf of predators.
The page entitled "F'N Wook" appeared "to be run by Marines and seems to be full of comments from Marines," Costello noted. Its supposed humor included remarks like "this is my rape face." A photo of a woman with a black eye is accompanied with the text, "She burned the bacon only once." Yet another — with an image of a woman in military uniform with a gun — reads, "Hehe…I can 'bang' even when I am not on my back!!"
Such pages have been taken down, Speier said, because they violate Facebook's own terms. "They are full of hate. They are anti-Semitic, anti-women, and racist," she said. "To think that any of these people who are placing these pages online are active military frightens the life out of me — because it speaks of a violent culture that is truly unacceptable."
Speier in fact wrote a letter last month to Secretary of State Chuck Hagel, Marine Corps Commandant James Amos, and Principal Deputy Inspector General Lynne M. Halbrooks. In it, she included screenshots from the page and asked that she received a response about "planned actions" by the end of May.
"We share your indignation; I am responding on behalf of the Secretary of Defense," Amos responded. "These depictions are neither official Marine Corps communications nor reflective of the U.S. Marine Corps' sentiments toward women."
Speier, in turn, responded:
"The Marine Corps' good order and discipline creed has been totally undermined when it cannot police Marines who use social media to promote anti-Semitism, sexism and racism. These messages of hate reflect the kinds of attitudes our military fights around the world as oppressive and demeaning to human dignity. The postings of a few serve to discredit the entire Corps and contribute to a hostile work environment. In the private sector these employees would be fired. The Marine Corps must do the right thing now and stop their own who practice the worst forms of hatred."
The reply she received did not cut it, she told Costello. "If this happened in the private sector, these individuals would be fired," she argued. The Marines need to determine whether those posting are active military members, and if so: "They should be kicked out, pure and simple."
Moreover, Speier advocated ensuring there's not a "hostile work environment."
"Somehow our military brass can't bring themselves to recognize that commanders with no legal training have no ability, frankly, to ascertain whether or not a case is criminal and whether or not it should move forward," Speier said. "The system is rigged on behalf of the predators, and that's why we have so many of them still serving."
Watch below, via CNN:

Have a tip we should know? tips@mediaite.com