Desmond Tutu, Other Nobel Laureates Call For End To NBC's Stars Earn Stripes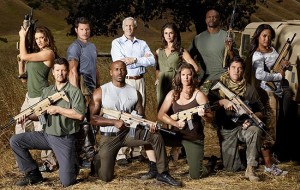 Nine Nobel Peace Prize winners, including Archbishop Desmond Tutu, are calling for NBC to end its reality show Stars Earn Stripes. Protesting the show in an open letter, they argue the show "sanitizes" and glorifies war and armed violence.
The series, retired Army Gen. Wesley Clark, is a competition in which celebrities, paired with U.S. military personnel, tackle "missions inspired by real military exercises." It says it "pays homage to the men and women who serve in the U.S. armed forces and our first-responder services."
Current celebrity contestants are actor Dean Cain, former boxer Laila Ali, The Biggest Loser trainer Dolvett Quince, singer Nick Lachey, former WWE champion Eva Torres, former Olympic gold medalist Picabo Street, actor Terri Crews, and Sarah Palin's husband Todd Palin.
The letter, according to the Associated Press, was sent on Monday to Clark, NBC's Robert Greenblatt, producer Mark Burnett, as well as some others associated with the show. It argues, "This program pays homage to no one anywhere and continues and expands on an inglorious tradition of glorifying war and armed violence."
Additional portions of the letter, per the Washington Post:
The show is, in fact, they said, "a massive disservice to those who live and die in armed conflict and suffer its consequences long after the guns of war fall silent."

"Trying to somehow sanitize war by likening it to an athletic competition further calls into question the morality and ethics of linking the military anywhere with the entertainment industry in barely veiled efforts to make war and its multitudinous costs more palatable to the public," the nine continued.
NBC, they said, is "working with the military to attempt to turn deadly military training into a sanitized 'reality' TV show that reveals absolutely nothing of the reality of being a soldier in war or the consequences of war." The group called on NBC to stop airing the program.
In addition to Tutu, the letter is signed by Jody Williams (1997), Mairead Maguire (1977), Dr. Shirin Ebadi (2003), President José Ramos-Horta (1996), Adolfo Pérez Esquivel (1980), President Oscar Arias Sanchez (1987), Rigoberta Menchú Tum (1992) and Betty Williams (1977).
(H/T AP)
Have a tip we should know? tips@mediaite.com