Despite Endorsement, Rick Santorum Completely Fails to Identify a Rubio Accomplishment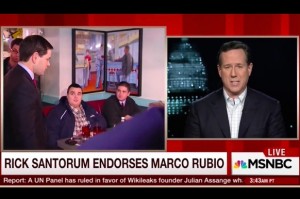 Fresh off of his withdrawal from the Republican race for the Presidency, former Pennsylvania Senator Rick Santorum offered his passionate endorsement for Marco Rubio yesterday. Rubio, the Florida Senator who finished third in Iowa on Monday, has been gaining momentum heading into next week's New Hampshire primary, and the endorsement from Santorum was a boost for his campaign.
However, on Thursday morning, Santorum was utterly unable to answer a direct question from Morning Joe's Joe Scarborough:
"What do you list as Marco Rubio's top accomplishment?".
What followed was a dizzying array of questionable sidesteps and half-answers from Santorum, who himself won the Iowa Caucus in 2012. To Scarborough's question, Santorum meekly managed to say that Rubio, "[Won] a tough election in Florida, pull[ing] people together from a variety of spots."
Scarborough wasn't having it, and repeated the question multiple times while others on the Morning Joe panel laughed at the absurdity of the situation.
"He's someone who brings people together!" Santorum admitted sheepishly.
"He's been in the Senate four years. Can you name his top accomplishment?" pressed Scarborough once more.
Mika Brzezinski pushed the former Pennsylvania Senator further, leading him with "Jeb Bush ran Florida. Donald Trump built a company. Marco Rubio… finish the sentence." Predictably, Santorum could not, though he maintained his smile throughout the brief interview.
Scarborough admitted afterwards that ironically, it was Santorum's work in the Senate — not necessarily Rubio's — that was deserving of praise, noting that it would be easy to identify accomplishments of Santorum's.
Watch the above interview from MSNBC.
[image via screengrab]
—
J.D. Durkin is the Senior Editor of Mediaite. You can follow him on Twitter @MediaiteJD.
Have a tip we should know? tips@mediaite.com