Did Rep. Steve King Tell GOP's Ana Navarro She Doesn't 'Understand The Language'?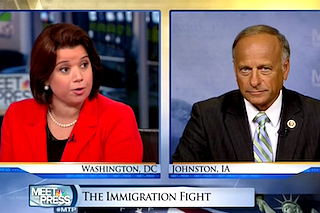 Did Iowa congressman Steve King tell GOP strategist Ana Navarro she doesn't "understand the language" well enough to interpret his controversial comments that many illegal immigrants were "drug smugglers with calves the size of cantaloupes?"
The exchange occurred on NBC's Meet the Press Sunday morning, during which King refused to back down from his comments, even after host David Gregory asked him to respond to the fact that his comments had been refuted and called "hateful" by the GOP leadership.
"I didn't say that, David, and my numbers have not been debunked," King said. "I said valedictorians compared to people who would be legalized under the [DREAM] Act that are drug smugglers coming across the border. My characterization was exclusively to drug smugglers, and anybody that understands the language and the culture should be able to watch that tape and know that."
Navarro, who has castigated King on his comments before, denounced him again. "Congressman King should get some therapy for his melon fixation," she said. "I think there might be medication for that. I think he's a mediocre congressman with no legislative record and the only time he makes national press is when he comes out and says something offensive about the undocumented or Hispanics."
"I spoke only of drug smugglers, and if Ana understands the language she should know that," King replied. "I didn't insult her."
"I'm not undocumented, Congressman," Navarro said.
"Where's the compassion for the families who have lost their children, lost their family members, who are buried today because we didn't enforce immigration law?" King asked. "We need to secure the border first, restore the rule of law, then we can have this discussion that you want to get to. Let's not be insulting people in the process."
"Oh, you're going to talk to me about insulting people?" Navarro said.
Watch the full clip below, via NBC News:
—
>> Follow Evan McMurry (@evanmcmurry) on Twitter
Have a tip we should know? tips@mediaite.com