Dish Network Allegedly Airs Porn During Lilo & Stitch, Children Scream And Cry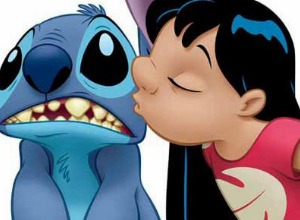 It's a scene no mother ever wants to take place in her house: "My 5-year-old grabbed his ears and ran out of the room screaming, 'I didn't do it,' and the 3-year-old was sitting there crying."
But these are the words of North Carolina mom Georgie Brown, who had to do immense damage control earlier this month when her three children sat down to watch their favorite movie, Lilo & Stitch on Dish's feed of the Disney Channel only to have "hardcore porn" pop up on the screen at the beginning of the family flick.
"The kids wanted to see Lilo & Stitch," said Brown, who had taped the film on Dish Network September 7 and turned it on for her little ones a few days later. A minute into the movie, an alert box popped up to state that part of Lilo & Stitch had been lost due to signal difficulties. The youngsters then reportedly saw a clip of a man and woman having sex, and the encounter went on for six minutes. Brown wasn't aware of this until she picked up on suspicious noises coming out of the television set from her kitchen.
"I just heard things that probably shouldn't be on Lilo or Stitch," she told FOX Carolina. "My first thought was the children have changed the channel."
But they hadn't used the remote, and by the time she noticed what was on TV, two of her three kids were a mess. Though the older children got worked up over the traumatic sight, Brown says her youngest son seemed unfazed:
"If you can imagine Maggie Simpson sitting on a sofa watching porn that was him just sitting there sucking his pacifier kind of clueless."
"We are taking this matter very seriously. Our engineering groups are actively investigating these reports," a senior manager of corporate communications for Dish told the Daily News.
Brown is still trying to sort out what went wrong with Dish Network, but her offspring can't un-see the visual interruption:
"When I told [my children Dish Network was] coming and to talk about the television, they mimicked the action and sound back to me, and they're only 3 and 5."
Fun…
Watch below, via FOX-21:
[h/t FOX Carolina 21]
Follow Laura (@LauraDonovanUA) on Twitter.
Have a tip we should know? tips@mediaite.com