Does Obama Still Have The 'Juice'? Fox Pundits Take On The 'Feckless' President's 2nd Term 'Fizzle'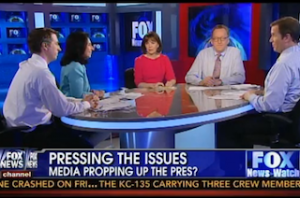 Host Jon Scott began Saturday's edition of Fox News Watch by looking at a question President Obama received from ABC News' Jonathan Karl at this past week's news conference. Karl asked Obama if he "still has the juice to get the rest of your agenda through this Congress." The Fox panel weighed in on whether the president should be considered a "lame duck" just 100 days into his second term.
Conservative contributor Jim Pinkerton jumped in first, calling Obama "feckless" on Syria. "Anybody that thinks that the FBI and Homeland Security did fine on Boston ought to" ask themselves "do you really want him managing your Syria liberation operation?"
Judith Miller agreed that the press conference was not Obama's finest moment. "I think the media finally caught up with the fact that this was a very unscripted performance by the president this week," she said "And more than that, he is not just passive. He was positively defensive."
After Scott read off some of the divisive press Obama has received this week, the National Review's Rich Lowry said this was the week when the media finally accepted the "reality" that so far Obama's second term "has been a fizzle." He added, "the media tends to get tired of one narrative and the narrative of Barack Obama, the conquering hero from the election had gotten a little shopworn." On the issue of immigration, which appears to be next on Obama's docket, Lowry said even if something comprehensive does pass, "it won't have anything to do with the president. It will have to do with the president staying out of the way."
While multiple members of the Fox panel mentioned that with 44 months left in President Obama's second term, it's probably too early to call him a "lame duck," none were willing to come out and say he still retains any significant amount of political power.
Watch video below, via Fox News:
—
>> Follow Matt Wilstein (@TheMattWilstein) on Twitter
Have a tip we should know? tips@mediaite.com