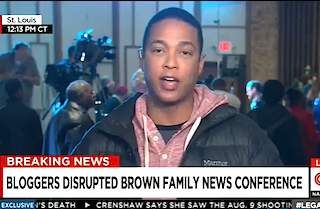 Last night, St. Louis County prosecutor Bob McCulloch laid blame on the "24-hour news cycle" for impeding justice in the grand jury case surrounding the shooting of Michael Brown. Now, a member of the 24-hour news cycle has turned around and blamed "bloggers" for causing an outsized amount of "commotion" in Ferguson.
Following a press conference from Michael Brown's family lawyers that was briefly disrupted by some disturbance in the crowd of reporters and supporters, Lemon attempted to explain what happened and the effect that similar instances have had on the situation in Ferguson.
"OK, here's the thing that people at home should understand," Lemon began. "So there is this outrage that everyone thinks is out there. Most of that outrage is coming from the Internet and social media."
The host went on to explain that "the people who are actual protesters" are mostly "peaceful." He said, "They have a beef and they are being peaceful about it. And they aren't the people who are out there causing the commotion every day." Instead, he pointed to "bloggers and people who are trying to make a name for themselves, people who want you to follow them on Twitter, or follow their blog, or follow them on live stream" as the ones causing problems.
"These were bloggers and as many people are calling them, 'outside agitators,'" Lemon said, referring to the people who disrupted the press conference. "That's where the commotion is coming from." So while it may look to outsiders that "everyone here is pissed off and angry or what have you," he said, "It's the people who are online who are taking things out of context. Those are the people who are really creating the stir."
Lemon's comments echoed those of Al Sharpton, who addressed the "bloggers" in attendance during his remarks at the press conference. "When y'all run the picture: 'Disruption at the conference!'" Sharpton said, predicting the inevitable headlines, "it was one of y'all bloggers that caused the disruption."
Watch video below, via CNN:
[h/t Washington Post]
[Photo via screengrab]
— —
>> Follow Matt Wilstein (@TheMattWilstein) on Twitter
Have a tip we should know? [email protected]