Don Lemon: Indictment of Darren Wilson Looks 'Like it's Not Going to Happen'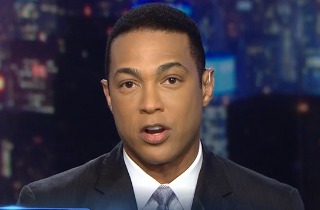 Don Lemon on the The Tom Joyner Morning Show Thursday said new reports on the Michael Brown shooting indicate that an indictment of officer Darren Wilson is more unlikely than previously thought.
"Barring a videotape that clearly shows the events on Canfield Drive on August 9, 2014 — judging from the evidence revealed thus far, anything is possible — but at this point an indictment of officer Darren Wilson is looking more and more like it's not going to happen," Lemon said.
The St. Louis Dispatch reported this week that experts who have looked over Brown's autopsy report concluded that an altercation took place between Wilson, a white officer, and Brown, a black man, before Brown was shot dead. Though some witnesses of the shooting have said Brown was shot with his hands up or walking away, the experts interviewed by the Dispatch said that the autopsy report did not support those accounts. They said it appeared that Brown had confronted Wilson and reached for the officer's gun. The Dispatch noted that the experts interviewed were not involved with the official investigation into the shooting, which provoked racial unrest in the St. Louis, Mo., area and across the nation.
A grand jury is currently deliberating on whether to indict Wilson, who says he acted in self-defense. Lemon said that it's possible leaks were coming out of the grand jury as a way to prepare protesters in the St. Louis area for a non indictment.
Listen:
[Photo via CNN/screen grab]
— —
>> Follow Eddie Scarry (@eScarry) on Twitter
Have a tip we should know? tips@mediaite.com