Don Lemon to Cosby Rape Accuser: When You Had Oral Sex, Why Didn't You Use Your Teeth?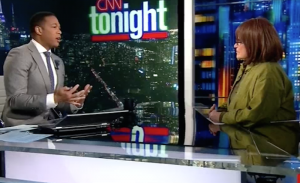 Last night, Don Lemon invited Joan Tarshis, one of the numerous women calling out comedian Bill Cosby for alleged rape, to CNN to discuss her claims. (She had also appeared on Lemon's show on Monday.)
On the show, Tarshis repeated her story: that Cosby had slipped something into her drink back in the late '60s, and forced himself on her. "I didn't go to the police because I was 19 years old," she told him. "I was scared. And I thought nobody would believe me. I'm a 19-year-old girl and he was Mr. America — Mr. Jell-O as I called him. Why would anybody believe me, take my word against his word?"
Lemon then discussed one of her claims, in which she allegedly lied to Cosby and told him that she was carrying an STD, and that if he raped her, he would bring it home to his wife. Subsequently, according to Tarhsis, he forced her to perform oral sex on him.
"You — you know, there are ways not to perform oral sex if you didn't want to do it," Lemon said.
"Oh. Um, I was kind of stoned at the time," Tarshis responded, stunned. "And quite honestly, that didn't even enter my mind. Now I wish it would have."
But Lemon kept pressing:
LEMON: Right. Meaning the using of the teeth, right?

TARSHIS: Yes, that's what I'm thinking you're —

LEMON: As a weapon.

TARSHIS: Yeah, I didn't even think of it.

LEMON: Biting. So, um —

TARSHIS: Ouch.
"I had to ask," Lemon said sheepishly.
Watch below via CNN:

[h/t MMfA]
[Image via screenshot]
—
>> Follow Tina Nguyen (@Tina_Nguyen) on Twitter
Have a tip we should know? tips@mediaite.com