Earnest on Hobby Lobby Ruling: 'The Constitutional Lawyer in the Oval Office Disagrees'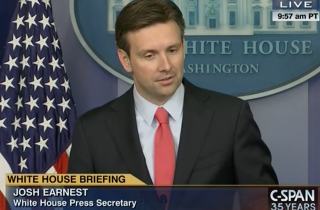 While President Barack Obama will withhold commenting on the Supreme Court's decision in favor of Hobby Lobby's right not to cover contraceptives in its employee health insurance plans, White House Press Secretary Josh Earnest did indicate that the president disagrees with the court's conclusions.
"Does the constitutional lawyer who sits in the Oval Office agree with the Supreme Court's premise that companies have freedom of speech and companies have freedom of religion?" asked ABC News reporter Jim Avila on Monday afternoon.
Earnest's response [emphasis added]:
As the constitutional lawyer that sits in the Oval Office would tell you: He would read the entire decision before he passed judgment, in terms of his own legal analysis. What we have been able to assess so far — based on the preliminary reading of that decision — is that there is a problem that has been exposed, which is that there are now a group of women of an indeterminate size who no longer have access to free contraceptive coverage simply because of some religious views that are held, not by them necessarily, but by their bosses. We disagree and the constitutional lawyer in the Oval Office disagrees with that conclusion from the Supreme Court. Primarily, because there is concern about the impact it could have on the health of those women. Ultimately, the goal of the Affordable Care Act — remember — was to provide greater freedom to Americans to allow them to make more decisions and have access to more options as they seek health care coverage. And that's the source of the concern that we have. And that's the problem that we want Congress to fix.
Watch below, via C-SPAN:
— —
>> Follow Andrew Kirell (@AndrewKirell) on Twitter
Have a tip we should know? tips@mediaite.com