Bolling Blasts Dershowitz for Anti-Cruz Comment: 'People Actually Pay' To 'Have You Teach Children?'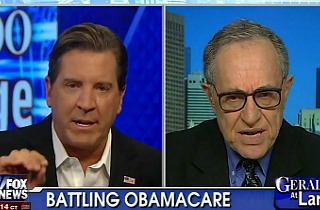 Harvard Law Professor Alan Dershowitz was on the receiving end of a blistering attack by Fox News Channel host Eric Bolling over the weekend during a heated argument over Sen. Ted Cruz (R-TX) and the tactics he used to seek the defunding of the Affordable Care Act. "Do people actually pay," Bolling asked, "to have you teach children?"

In a segment on Fox News Channel's Geraldo At Large on Saturday night, Dershowitz began by insisting that "health care is the best thing to happen to this country in my adult life."
finally, finally, we're becoming a first world country," he continued. "When it comes to telling people that there's not going to be pre-existing conditions that disqualify them, that they're not going to have to give up personal doctors if they want to pay for them, but that every American — like every person in Massachusetts — has the right to health care."
"You don't engage in extortion to shut down the government," Dershowitz continued. He said that the political left is also at fault for their effort to "criminalize" conduct like Cruz's by defining it to be sedition.
RELATED: ABC News' Jon Karl Asks Ted Cruz 'How Much do Your Colleagues Just Despise You Right Now'
"I challenge you to show me in this document where it says that the government can tell me I have to buy a good or a service," Bolling said while displaying a copy of the Constitution.
"It's the same provision of the Constitution that says your child has to be vaccinated," Dershowitz shot back. "It's the same provision of the Constitution that says your son has to serve in the armed forces."
"We sometimes have to compel people to do things that they may not choose to do in the general interests of the United States," he continued.
"What are fiscal conservatives supposed to do?" Bolling asked.
"Win elections," Dershowitz countered.
"They're playing by the rules, sir," Bolling said of the House conservatives who failed to pass a clean funding resolution without amending the Affordable Care Act. "Do people actually pay and write a check out to Harvard to have you teach their children constitutional law?".
Geraldo Rivera pivoted to immigration reform and said that Cruz can also "sabotage" President Barack Obama's "aspiration" of achieving comprehensive reform which would also damage the future electoral prospects of the Republican Party.
Dershowitz praised immigration. "We are a nation of immigrants," he said. "Let's maintain that tradition."
"Senator Cruz did everything by the book, sir," Bolling said. "The book that you teach every day to your students." Bolling apologized to Dershowitz for attacking his employer, but said that his interpretation of the Constitution differs greatly from his own.
Watch the segment below via Fox News Channel:
[Photo via screen grab ]
— —
> >Follow Noah Rothman (@NoahCRothman) on Twitter
Have a tip we should know? tips@mediaite.com