Eric Bolling Bravely Changes Name Of Show From Money Rocks To Follow The Money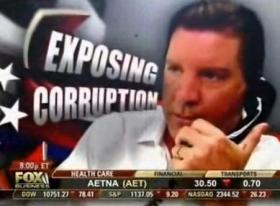 Money Rocked for Fox Business Network…for about three months.
This week Eric Bolling and FBN rebranded his 8pmET show, that launched June 21, as Follow The Money, leaving Money Rocks behind.
As his show opened on Monday, the Money Rocks logo came up and show started as it normally has. Then Bolling walks into view. "Stop, stop! Get rid of all this!," he said. "We're following the money now!" Then came the voiceover:
Follow The Money with Eric Bolling. Taking you inside the world of corruption, abuse of power and shocking betrayals of the public trust. We follow the money wherever it goes.
Now there's Eric Bolling, picking up the phone determinedly, while "exposing corruption" flashes on the screen. And so on. Back in June, Bolling told us about the Money Rocks concept. "There's nothing like it on TV right now," he said. "It's a celebration of how America is the land of opportunity. How people with no financial background, no professional training, in different walks of life still become superstars."
So goodbye to the show that saw a former Senator drop a couple "bullshits" on-air and had what may have been the worst "Ground Zero Mosque" debate ever. And hello to following the money.
Bolling 'followed the money' on his first show Monday by…spending 15 minutes attacking Eliot Spitzer (on the first day that he, like Bolling, was an 8pmET cable host). Johnny Dollar has the video.
Here's the open to Monday's show, with introduction to the new concept (and a preview of his Spitzer segment):

—–
» Follow Steve Krakauer on Twitter
Have a tip we should know? [email protected]