Eric Bolling Can't Fathom Why Sesame Street Needs A Poor Muppet: 'Do We Single Out A Black Muppet Too?'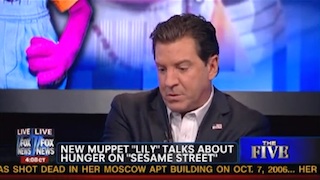 This week, Sesame Street made headlines over its upcoming special on child hunger and the new character that it will feature; Lily, an impoverished girl.
It only makes sense that the story would go viral. After all, "starving Muppet" is the kind of idea that's easy to write news stories about, like "gay Archie character" or "Sarah Palin."
However, while many seemed to think it was a good idea, others, like The Five's Eric Bolling disagreed. In fact, Bolling seemed absolutely dumbfounded about why anyone would ever want to see something as stupid as a poor Muppet.
While Bob Beckel tried his best to explain that one in five children go to bed hungry and the character would therefore be a good educational tool, Bolling just couldn't wrap his head around the idea.
BOLLING: Why does Lily have to be a Muppet? Why does Sesame Street have to make Lily a poverty-stricken little Muppet?

BECKEL: Because the Muppets, the reason it's been so successful for so long is that it educates kids…*unintelligible*…unlike people who have kids with beach houses.

BOLLING: Why is Lily a class, a group? Do we single out the black Muppet? Or the Hispanic Muppet? Why do we need to single out the hungry Muppet?
Oh my God, you guys. Eric Bolling is so totally right. Pre-school age children absolutely hate it when their entertainment characters represent one idea. That's clearly the worst way to teach them. And furthermore, we all know that kids never, ever like it when the characters on TV are ones they can relate to. That's why they all totally hate the characters of Big Bird and Elmo, both of whom are purposefully designed to represent them.
Someone really needs to fire all the children's educators who have spent the past few decades making Sesame Street. As the education genius that is Eric Bolling points out, all of their icky "hungry Muppet" nonsense is tantamount to racism.
Yes, another important topic easily solved by the afternoon panel show.
Watch the clip from Fox News below:
Have a tip we should know? tips@mediaite.com