Explosive: Glenn Greenwald Reveals To Jake Tapper How Democrats In Revolt Against NSA Spying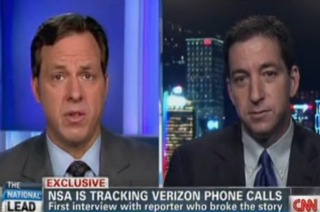 Glenn Greenwald, the Guardian journalist who broke the story about the top secret program surrounding the National Security Agency's procurement of the telephone records of every Verizon customer, joined CNN's Jake Tapper on Thursday. In a detailed interview, Greenwald detailed his report and noted how members of Congress are in revolt over their inability to oversee the program.

"It's always been assumed that, under the Patriot Act, if the government had even the suspicion that you were involved in a crime or terrorism they could get a lot of information about you," Greenwald began. He said that this order is unique because it is not directed at an individual, it is indiscriminately directed at every one of Verizon's 120 million plus subscribers.
"It is a government program designed to collect information about all Americans," he continued.
"Why was this court order that we obtained marked top secret and closely guarded?" Greenwald asked. "It doesn't harm national security for us to know about it. We should have this debate in the open."
RELATED: Dem. Senator Slams U.S. 'Culture Of Leaks' On 'Classified' Revelation NSA Probing Phone Records
Greenwald dismissed a response by a government official who said that the program is effective at countering terrorist operations. "If what they're really doing is what they claim their doing in that statement," he continued, "why aren't they going to the court and specifically naming those people and giving information to the court to let the court know that they're actually engaged in wrongdoing?"
Greenwald noted that Sens. Ron Wyden (D-OR) and Mark Udall (D-CO) wrote that most members of Congress do not have any staff cleared to view information relating to the NSA's collection of phone records.
This runs contrary to claims made by Senate Intelligence Committee Chair Dianne Feinstein (D-CA) who told MSNBC's Andrea Mitchell on Thursday that her committee has debated this issue "more than a dozen times" and it only requires members of Congress send a member of their staff to show interest in the program to be fully informed about it.
Tapper asked Greenwald if he thought most members of Congress were satisfied with the level of oversight they have over these programs. "Absolutely not," Greenwald replied.
These are Democratic Party senators, who are loyal to President Obama and their party, who have spent years now saying, 'Please listen to us. What the Obama administration is doing in interpreting the Patriot Act is so warped and distorted and it vests themselves with such extremist surveillance powers over the United States and American citizens that Americans, in their words, would be stunned to learn what the Obama administration was doing.
He said that the White House has made it impossible to exercise oversight or even evaluate policies like the NSA's monitoring of phone use by American citizens. He added that Congress has "completely meaningless" "symbolic oversight" because they have been made aware of the practice but are unable to change anything about the program.
Watch the interview below via CNN:
> >Follow Noah Rothman (@NoahCRothman) on Twitter
Have a tip we should know? [email protected]