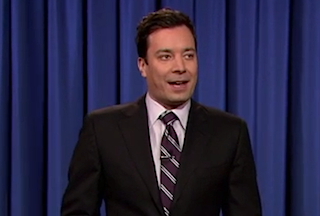 There will be a lot of pressure on Jimmy Fallon's shoulders when he takes over the Tonight Show next February. Will he be able to maintain Jay Leno's #1 ratings? Or will the changing of the guard open the door for David Letterman or Jimmy Kimmel to become the new king of late night?
In an interview with the New York Post Tuesday, Fallon offered up his own prediction for what might happen. "I'm not Nostradamus but probably we'll open up, follow the Olympics, have crazy-awesome ratings, then the Olympics will go away, our ratings will drop down [and] that will be a story," he told the Post's Andrea Morabito. But, he said, once Seth Meyers comes in and takes over his Late Night spot, in "the end it will all be fine."
It was a predictably sunny outlook for the relentlessly positive comedian. He acknowledged that he has a younger audience than Leno now, which could be a good thing for advertisers who closely watch the 18-49 demographic for late night TV. "I think I can hold both audiences," Fallon said of his current demo and Leno's older fans. "We'll figure it all out and in the end it's either you watch me, [Jimmy] Kimmel or Dave [Letterman]," he said, without revealing any hints of anxiety.
The host expressed even more enthusiasm about the new job in general, saying, "I can't wait to go, I'm ready to start. I want to start tomorrow." He indicated that the look and feel of the new show, including the use of his vital house band The Roots, would remain similar to his current one.
"I'm not going to go out to change anything, but just gradually it just will change because I'm getting older and it is an hour earlier," he said. "We will take everything that works on our show. We're not going to do anything that drastic. It's not reinventing the wheel. We've seen that doesn't work."
Conan O'Brien didn't exactly try to "reinvent the wheel" when he took over for Leno in 2009. But in that case, the ratings were not what NBC had expected or hoped for and within months they had reinstalled Leno in his old position.
[photo via screengrab]
— —
>> Follow Matt Wilstein (@TheMattWilstein) on Twitter
Have a tip we should know? tips@mediaite.com