Fmr. Sec. of Defense Leon Panetta: Shutdown is 'Weakening America,' Military Readiness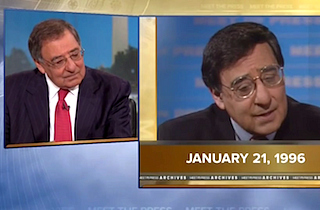 Former Secretary of Defense and Bill Clinton Chief of Staff Leon Panetta appeared on Meet the Press Sunday morning to express his disappointment at the repetition of the 1995/1996 government shutdown, and warned that allowing House Republicans to grind government to a halt over ideological objections could have serious consequences for combat readiness.
"I am really surprised that the lessons that were learned seventeen years ago—that you don't shut the government down, that you don't hurt the American people—obviously was not learned and has been repeated," Panetta said.
"You don't win in this town politically by hurting the American people. And that's what we're doing. We're hurting kids, we're hurting families, we're hurting individuals that are losing their pay, not paying their mortgages. I mean, why would you allow a small minority who can't get their way to basically take out their vengeance on their fellow citizens?"
Panetta argued that the sequester, currently part of the budget negotiations, was affecting American security.
"We are paying a heavy price right now for what is happening to this country," he said. "America is being weakened, and that's the last thing that ought to happen. Members swear an oath to protect and defend the Constitution against all enemies, foreign and domestic. What they're doing by the shutdown, by this threat on the debt limit, is weakening America and sending a message to the world that the United States can't govern. That's a lousy message for the world to hear."
Host David Gregory pressed Panetta on whether the sequester cuts had been as bad as he'd warned.
"Our readiness has been badly damaged," Panetta responded. "We've got twelve combat squadrons that have been grounded. Half of the Air Force is not combat ready. We've got ships that are not being deployed. We've got training rotations that have been canceled. We've got 800,000 federal employees that have been furloughed under sequester and that are now taking a hit on the shutdown. All of this is impacting on our readiness and our ability to be able to handle a major crisis."
Watch the full clip below, via NBC News:
[Image via screengrab]
——
>> Follow Evan McMurry (@evanmcmurry) on Twitter
Have a tip we should know? tips@mediaite.com