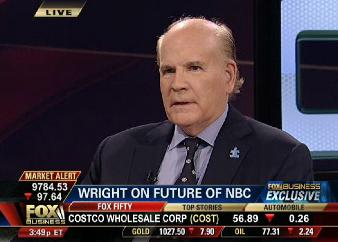 The man who preceded Jeff Zucker as head of NBCU, Bob Wright, was on Fox Business Network yesterday in an interview focused on Autism. But FBN anchor Liz Claman (a former NBCU employee herself) also asked about the potential sale of the company, Jay Leno's lagging ratings and more.
As for the potential sale, Wright said, "This is a very depressed time for media, so NBC Universal's value is certainly a lot lower than it would have been two, three or four years ago."
Claman quoted an analyst, who told her, "The NBC empire has fallen apart since Bob Wright left."
"I think its been a tougher time for broadcasting," responded Wright. "We're not on a roll, we haven't been on a roll with entertainment, the entertainment side."
Claman asked specifically about Leno, whose low ratings have forced some NBC affiliates to speak up about the move. "When you make a decision like that you have to have a long time view," said Wright. "When News Corporation made a decision to go into this business, you have to have a long point of view. And I think that was a decision with a long point of view. Jay has talent and ability to produce the show that's going to work and they're going to have to wait a while."
The reference to News Corp., which Claman agreed with, was to Fox Business Network, which has seen its own slow ratings build in its two years of existence.
The interesting part of Wright's appearance is not that he was on a competitor business news network to NBCU – he has every right to be. But unlike an appearance on CNBC in May, he's free in this setting to be as brutally honest about his assessment of the company he once ran. It provides a platform for a news-making moment.
Here's the full interview (with the NBCU part coming around 6:00):


—-
Have a tip we should know? tips@mediaite.com