Fox and Friends Solicits Viewers To File IRS Complaint Over Media Matters' Tax Exemption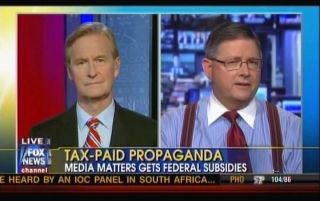 If you've been watching Fox News lately (or, alternately, following Mediaite's coverage of Fox News), you may have noticed that the network has been devoting quite a bit of attention to liberal media watchdog Media Matters.
On July 2nd, we told you how Fox News Watch spent two segments challenging Media Matters' tax-exempt status, and July 5th saw not one, but two posts on Fox and Friends' coverage of the group, including an attempt at psychoanalyzing its founder, David Brock. (Diagnosis: Low self-esteem.)
This morning, Fox and Friends aired yet another segment devoted to Media Matters, with host Steve Doocy asking the Washington Examiner's Mark Tapscott to weigh in on the group's tax status. The segment included a call to action of sorts, with Tapscott telling Doocy that Fox News is "doing a public service by encouraging hopefully thousands and thousands of people to file a complaint with the IRS."
Have a look, via Fox News:
We asked Mediaite columnist (and our resident authority on All Things Liberal) Tommy Christopher to offer his take on the "feud" brewing between the network and Media Matters. Here's what he told us:
First of all, Doocy and Tapscott are misstating the IRS regulation surrounding 501 c 3 organizations. The prohibition on political activity relates specifically to favoring or opposing candidates in elections. The conservative Media Research Center (of Newsbusters fame) is also a 501 c 3.

If you Google "non profit group loses exemption," you find that the Council on American-Islamic Relations was among 275,000 groups to lose their tax-exempt status… for failing to file the proper forms, and a NJ-based organization lost its non-profit status… for turning a profit.

That call to have viewers complain to the IRS sounds a lot like the "guerilla warfare" that Fox is complaining about from Media Matters. For those who argue that Fox News is simply fighting fire with fire, in order to justify that, don't they then also have to admit that they have some sort of their own agenda? Or is this simply the opinion side of the Fox News Channel? Tapscott even calls Fox "conservative media," and Doocy doesn't dispute it. Whether Media Matters has the right to go after Fox, it's certainly a legitimate to question whether going after Media Matters is an appropriate thing for a news organization to do.
To be fair, Fox and Friends is not a news program; it is considered by many in the cable news business an entertainment program that sometimes features the news. And, a search for "Fox News" on Newsbusters' site reveals the opposite side of the same coin, with the conservative, media-focused blog featuring mostly positive news and viewpoints regarding Fox News.
All talk of tax status aside, as a group devoted to providing analysis of the news through a liberal lens, Media Matters is ostensibly doing its job in critiquing a news and opinion source that, in their esteem at least, leans to the right. Those critiques may very well be overly aggressive, and at times even unfair, depending on where you're standing, but Media Matters is essentially doing what it has explicitly set out to accomplish, which is a war on Fox News.
Fox News, on the other hand, is a network that is meant, according to its own slogan, to present its audience with fair and balanced news and commentary. Reporting on Media Matters' bias and questioning the appropriateness of the group's tax exempt status, even on an "opinion program" can very well fall within this scope, but to feature repeated segments and, most notably, a call to action aiming to strip the group of this status, risks venturing into territory that can be justly deemed as advocacy journalism, even if it is just "opiniotainment."
Provide solid reporting, intelligent commentary, and engaging debates and let that speak for itself. If Media Matters is indeed in the wrong or acting inappropriately, let that speak for itself. Reporting on Media Matters and musing about the psychological state of its founder sends a very specific message to viewers, and we're not sure it's quite the one Fox News intends. It is vital to resist overreacting and, thus, lending credence to a group or entity one is trying to portray as either incorrect or irrelevant. After all, there's no use in rounding up an armada to swat a gnat.
Have a tip we should know? tips@mediaite.com