Fox & Friends Hosts Savage Obama For Negotiating With Terrorist, Anti-Women Taliban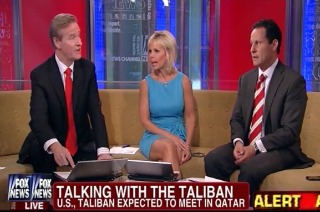 On Wednesday, The hosts of Fox & Friends attacked the White House's plan to begin direct negotiations with the Taliban. The Fox News hosts reported that the Taliban continues to execute attacks on Americans, refuses to observe a cease fire, and oversaw a repressive government which oppressed women while they were in power. They asked why the United States would bother to "negotiate with terrorists" given the unlikely prospects for reaching a negotiated peace.

Steve Doocy reported that, just hours after it was announced that the U.S. would engage in talks with the Taliban, fighters loyal to the organization claimed responsibility for an attack in Afghanistan which claimed the lives of four Americans.
Afghan President Hamid Karzai is reportedly frustrated by President Barack Obama's decision to hold talks with the Taliban. Obama was asked about Karzai's frustrations at a press conference in Germany on Wednesday, but Gretchen Carlson said that his answer was "convoluted."
"This is embarrassing," Brian Kilmeade exclaimed. "The first question that he gets at a press conference shows that yesterday's message was totally wrong."
"The other part of the message is that we're now negotiating with terrorists," Doocy said.
Kilmeade recalled that the Taliban ran a repressive government when they were in power in which oppressed women and supported Al Qaeda.
He ran down a list of ways in which the Taliban oppress women, including whipping women with exposed ankles, not allowing girls to attend school, and stoning women accused of having a relationship with men outside their marriage.
Finally, Doocy said that it was unlikely that the Taliban would even observe a negotiated settlement to the Afghan conflict because representatives for the insurgency are rejecting the notion of a cease fire while negotiations with the U.S. are ongoing.
"That's what you get when you deal with terrorists," Doocy concluded.
Watch the clip below via Fox News Channel:
> >Follow Noah Rothman (@NoahCRothman) on Twitter
Have a tip we should know? tips@mediaite.com