Fox & Friends Interview With President Trump Was Basically 'State Run' Television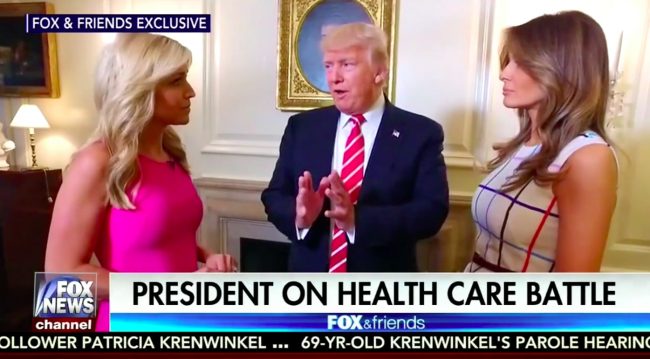 Fox & Friends co-host Ainsley Earhardt visited the White House yesterday to interview President Trump for a segment that aired this morning. It's been a long six weeks since the president sat down with the media, so it's noteworthy that his first interview since his tet-a-tet with NBC News' Lester Holt was with a much friendlier Fox & Friends.
Friendlier, it turned out, was an understatement. What viewers saw this morning was less an interview and more of a presidential batting practice of lobbed softballs from Ms. Earhardt.
Regarding the recent loss in GA06 and Nancy Pelosi's future, Earhardt asked "Are (the Democrats) in denial?"
After Trump called Democrats "obstructionists," she concurred, adding "Wouldn't that be refreshing if we could all come together…?"
After Trump claimed that he never changed his story regarding the Comey tapes, the Fox & Friends host added "So it was a smart way to make sure he stayed honest in those hearings?"
And so it went.
Now in Earhardt's defense, she's not really a traditional reporter, she's a television host. So her strengths are in "presenting" television and making guests feel comfortable, not asking tough questions. It also appears she only had 10 minutes with the Commander-in-Chief on a day in which a lot of news was breaking.
But, of course, we all know those things aren't the real issue.
CNN chief Jeff Zucker got some attention recently when he told New Yorker Editor-in-Chief David Remnick that Fox News was "state-run tv." The idea behind that comment was that, in his estimation, Fox News is more interested in promoting a pro-Trump agenda than "speaking truth to power." Perhaps this is why the President's favorite cable news program — the one he appears to parrot almost daily — is the one that got this interview.
The editorial bent of Fox News opinion programming has long been right-of-center, so this shouldn't surprise anyone. And on the other side of the aisle, CNN seems have taken an "all Russia, all the time" approach that has led to a remarkably inimical relationship between the White House and CNN.
But none of that is really an excuse for Fox News or Earhardt. Having one-on-one time with the President of the United States offers a real opportunity to advance the national conversation — it was a moment which Fox & Friends chose to waste.
Watch both segments below, courtesy of Fox News:
Part 1

Part 2

This is an opinion piece. The views expressed in this article are those of just the author.