Fox's Megyn Kelly Questions Whether 'Racial Profiling' Led To Designating 'Person Of Interest' And Not 'Suspect' In Bombing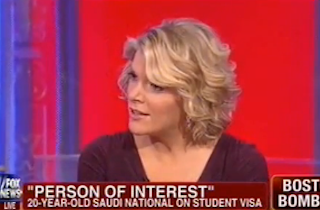 Yesterday, reports emerged that a Saudi national is in custody following the bombing at the Boston Marathon. He's not a suspect and may not necessarily have involvement in the attack, but reportedly was seen acting suspiciously. On Tuesday, Fox & Friends invited Judge Andrew Napolitano to discuss the man in custody and whether the suspicion may have been a result of racial profiling.
Based on reports, Napolitano noted the man "appeared different from everybody else," "he appeared deceitful." Megyn Kelly, who was filling in for Gretchen Carlson, questioned how much of that could be attributed to the fact the he doesn't look like everyone else — noting that we've all been "trained" to do some amount of racial profiling.
"How much of that can be attributed, the suspicion on him to that, versus we have real reason to believe this guy committed the terrorist attack?" she asked.
"When there is a burning compelling governmental interest to gather evidence against someone who might be involved, almost any judge would sign that kind of a search warrant," Napolitano replied. "They can't develop that information overnight, but they can do it pretty quickly. Was he honest or was he deceptive when he made his visa application, which is a lot more complex post-9/11 — but which any smart and determined person can trick the government and get in here even though they have evil designs. Was he a real student or was this a front?"
The government, he added, just doesn't have the resources to monitor every foreign student. Napolitano went on to present the hypothetical that the man in custody could have been pretending to be a student, using it as a vehicle to get into the country to commit "murderous deeds."
As of now, however, he's not officially a suspect, that we know of.
Take a look, via Fox News:

Have a tip we should know? tips@mediaite.com