Fox & Friends Tears Into Obama For Saying Goal Isn't Balanced Budget: Don't 'Vilify' Those Offering A Plan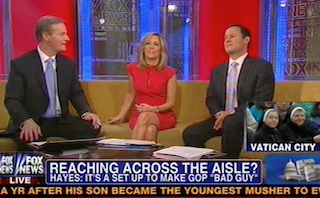 In his interview with ABC's George Stephanopoulos, President Obama said he's not going to chase a goal of balancing the budget just for the sake of balance "on the backs" of groups like the elderly, poor, disabled, and so forth. Fox & Friends discussed the interview — and the White House's approach to getting a debt deal — on Wednesday, and their feedback, unsurprisingly, wasn't exactly positive.
RELATED: Obama In Wide-Ranging Interview With ABC: 'We Don't Have An Immediate Crisis In Terms Of Debt'
Rejecting Paul Ryan's budget plan, Obama told Stephanopoulos he doesn't want balance "on the backs of the poor, the elderly, students who need student loans, families that have disabled kids. That is not the right way to balance our budget." Elsewhere in the interview, he noted that we "don't have an immediate crisis in terms of debt."
Brian Kilmeade quickly took issue with this line of reasoning. "These are entitlement programs that just need to be reformed in a way that's going to be sustainable," he countered. "You don't have to vilify people that come up with plans. Come up with your own plan. And for him to say, I'm not going to balance the budget just to balance the budget — did he get anything out of the Clinton dinner from last week?"
That reminded Steve Doocy of the Democrats' argument during the election, when they argued for a "balanced approached." So we want everything balanced except the budget? "I don't get the disconnect," he commented.
Indeed, it could a "deal breaker," Alisyn Camerota contended. Republicans' "overarching goal" is to tackle the deficit, yet the president just doesn't see it as a priority. It's great that the two sides are talking, she said, but they're "at opposite ends philosophically about this."
On that note, they turned to the report that Obama's outreach effort was all for show. "That was the most disheartening thing I've read in a long time," Camerota lamented. "You're supposed to go and meet with your adversaries so that you can work out some sort of bargain."
Doocy's cynicism aside, Camerota and Kilmeade weren't quite ready to dismissive any sincerity behind Obama's charm offensive. Intentions aside, Camerota added, perhaps something good can come out of it.
Take a look, via Fox News:

Have a tip we should know? tips@mediaite.com