Fox & Friends: Why Didn't Obama Use O'Reilly Interview to Set Record Straight on Benghazi?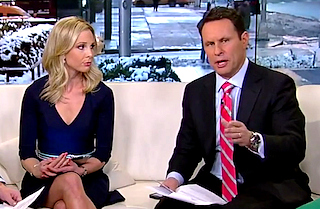 The hosts of Fox & Friends wondered Tuesday morning why President Barack Obama didn't use his interview with fellow Fox News anchor Bill O'Reilly before the Superb Owl to clear the air around Benghazi.
"The topics are valid, and the way they were presented to him wasn't, 'You screwed up Benghazi and lied to us,'" co-host Brian Kilmeade said. "He could even say that as an opportunity to straighten out the record. It was, 'What happened in Benghazi? What happened with health care?' If you want to address these issues that are the most important within your administration or at least the top five or top ten, why wouldn't you use that as an opportunity to tell a 40 million to 80 million-person audience your view of these issues that are lingering around you?"
"Instead, the way you guys couch them, I don't like it," Kilmeade continued. "It just is an illogic to it. Vince McMann was in the middle of this steroid scandal and they said the whole push was that it was coming out of the office, they were making the wrestlers take it. He looked over and he said, 'Ask me the toughest questions possible. It does me no good to ask easy questions. I want this to end now.'"
The interview reminded Elisabeth Hasselbeck of one Obama gave on The View in 2012, two weeks after the attack on the Libyan compound, when she was still a host on the show.
"This was during the campaign reelection," she said. "He coming to speak to women. Why? Because their votes are important. Well, women expect honest answers. He's sitting there with six women, one of whom happens to be the most important woman to him, his wife. When asked a direct question, he then says not a direct truth. Give us the whole truth. Can women not handle the whole truth? Can they not absorb — are we not smart enough to handle the whole truth?"
Watch the clip below, via Fox News:
[Image via screengrab]
——
>> Follow Evan McMurry (@evanmcmurry) on Twitter
Have a tip we should know? tips@mediaite.com