Fox's Colmes and Pinkerton Battle Over Whether Liberals Changing Subject to Insurance Companies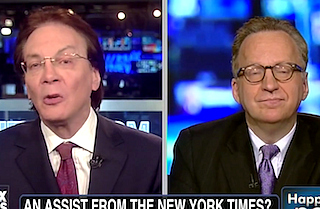 On Monday afternoon, Fox News contributors James Pinkerton and Alan Colmes debated this weekend's New York Times editorial that alleged President Barack Obama "misspoke" when he made his "if you like your insurance you can keep it" pledge, with Pinkerton claiming that the editorial was a willful attempt to change the subject that would now be assisted by liberal blogs.
Colmes argued that Obama's pledge rested in some part on the insurance companies being "good actors," which they were not inclined to do.
"Talking Points Memo, not exactly the mainstream media, talked about how the insurance companies are misleading their customers by not letting them know in some cases they have other alternatives, can go to exchanges," Colmes said. "Where there have been examples of those saying they're paying more, what hasn't been told, in some of those cases, is those people are entitled to subsidies. So the media hasn't told the whole story, even those who tried to present those unhappy with Obamacare."
"Is it part of the job of the media to tell people what their insurance offerings available are?" host Jon Scott asked.
"If you're going to present somebody, and say, 'Here's somebody not particularly happy because their rates are going up,' it's also important to say, 'Not really, because once you put in the subsidies, the rate isn't going up,'" Colmes said.
"Listen to what Alan just said," Pinkerton responded. "It proves that the New York Times plan is working. The issue now is the insurance companies. They're the bad guys in this."
"The president wouldn't have gotten his health care plan through in 2010 if he told the truth," Pinkerton continued. "In the minds of the mainstream media, that's a sunk cost. That's over and done with. We did what we had to do to get the Obamacare enacted by the Congress. Now we move on to shifting the blame…Now, it's going to take not only the New York Times but also very influential liberal blogs like Talking Points Memo to say, 'No, the real enemy is the insurance companies. Let's go get them. And pass new regulations and move to single payer, which is what we should have done all along.'"
Watch the full clip below, via Fox News:
[Image via screengrab]
——
>> Follow Evan McMurry (@evanmcmurry) on Twitter
Have a tip we should know? [email protected]