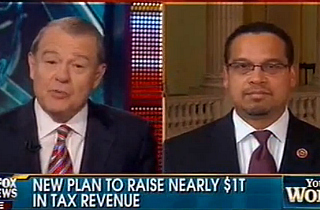 On today's Your World, fill-in host Stuart Varney got into a heated battle with Rep. Keith Ellison (D-MN) over the issue of "fairness" in increasing taxes on the wealthy.
Ellison's revenue plan includes closing tax loopholes that mainly affect wealthier Americans — estate tax deductions, stock option loopholes, etc. — which prompted Varney to bluntly ask whether this plan was purely aimed at squeezing more money out of the rich.
"We go a little further than that and we say we're going to close loopholes for fossil fuel companies likes Exxon Mobil and Chevron. We say we're going to close loopholes for deductions for yachts and jets," Rep. Ellison replied. "Closing loopholes as my colleague, Paul Ryan, and former presidential candidate Romney said during the campaign they wanted to do. During the campaign those loopholes is all they wanted to talk about."
Varney then asked: "If we're going to tax the rich some more, what is fair? What is a fair tax on wealthy people? And what impact on the economy if we raise taxes again on the rich?"
He brought up the example of pro golfer Phil Mickelson: "He's California resident. On every dollar over a million dollars that he earns, he's got to pay pay 63 cents to the state and feds in income taxes. Now is that tax rate fair?"
"Well, fair calls forth the question: compared to what?" Ellison responded. "It's fair compared to allowing somebody who is surviving on minimal income, like a senior citizen, to cut home heating oil, which is what we have to do if the sequester goes into place. It's fair compared to asking poor families on food stamps to get by with less. … It's a matter of compared to what?"
Through a minute or so of crosstalk, Varney kept pressing Ellison to say, point blank, that a 63% tax rate is "fair."
Finally, Ellison said: "I think asking Phil Mickelson for a little bit more money so that women and children can have a meal is fair. Yes, I do. I think it's fair to ask Phil Mickelson to put in a little bit more money to make sure that we can continue to invest in infrastructure in this country."
"As a patriotic American I think he would agree," Ellison continued.
"He does not," Varney shot back. "He wants to move. So you're saying he's unpatriotic?"
"I think that any American who has benefited from living in this wonderful country should be happy to make sure that all Americans have a ladder of opportunity," the congressman said. "I think that's a good thing."
When the Fox host pressed Ellison to say whether a 75% tax rate would be "fair," the congressman reiterated, "Compared to what, sir? It's a matter of comparison. Is it fair to asking women and children who need nutrition aid to go without and be hungry in the richest country in the history of the world?"
"Okay, we got it," Varney said, indicating he was about the end the segment and prompting the congressman to ask, "Are we done? I got more. You don't want to talk to me now?"
After a few seconds where it seemed like the segment would have to end abruptly for the hard break, Varney swooped back in and said, "I'm a European. I came from a country which taxes people tO the hilt, and the overall effect on the economy is to slow it down dramatically and create a culture of dependence."
When Ellison attempted to answer, Varney was forced cut him off for the hard break.
Watch below, via Fox:
— —
>> Follow Andrew Kirell (@AndrewKirell) on Twitter
Have a tip we should know? tips@mediaite.com