Fox News' Roster Of GOP Presidential Hopefuls A Controversial, But Smart, Strategy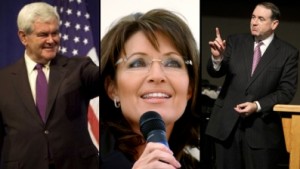 Fox News announced yesterday the suspension of their employment agreement with contributors Newt Gingrich and Rick Santorum as each ramps up their campaign for President. And with other potential candidates and Fox News employees (Sarah Palin, Mike Huckabee and John Bolton) being warned by the network that "as soon as each of them shows some serious intention to form an exploratory committee" similar action will be taken, one thing is clear: Fox News' strategy to secure so many compelling newsmakers was a very smart business decision, and one that we might likely see more of in the future.
Any criticism of the arrangements seems to gloss over the fact that nearly everyone involved comes out a winner. Fox News received nearly exclusive access to national persons of interest, while each of the Republican candidates secures for themselves a platform to continually reach the largest and most favorable cable news audience. Oh, and loyal Fox News viewers surely get comfort in knowing they don't need to turn to any other news channel to hear the latest from their favorite political pontificators.
CNN's John King recently admitted the frustration likely felt by many of Fox's competitors, "when it comes to covering the early maneuverings of the 2012 presidential race, we at CNN have what I'll call 'the Fox problem,'" the fact that Fox News contributors cannot make themselves available to outside interviews unless they are promoting a book.
The creation of such a unique competitive advantage over its rivals, and Fox's continued ability to leverage this strategic benefit by depriving competing networks of access to newsmakers, has certainly helped Fox strengthen its position within the cable news universe. Why watch pundits on another channel talk about Palin or Huckabee, when instead you can turn on Fox and hear directly from the source? It's the difference between merely reporting on the news versus Fox creating the exciting perception that news can also be made during their broadcast. A very smart programming decision, though one detractors have used to try to paint the network with political strokes.
To be fair, Fox News isn't the sole province of such a strategy: once and possibly future politicians like Eliot Spitzer, Ed Rendell, and even Joe Scarborough are in prominent positions on CNN and MSNBC. However, loading up with so many members of one political party who are still very active in political activity seems to be blazing a new trail, and a path other news operations might regret not taking first. While such a practice is great for ratings, it does no favors to dispel allegations of Fox's right-leaning bias. Even though Huckabee is the only host of a show and the rest are merely guests in a stable of rotating commentators, with so many powerful conservative contributors to the network, defenders of the "fair and balanced" slogan have to be disappointed that the most prominent liberal contributor with a similarly political background is Joe Trippi.
Moving forward, it seems like a new era is upon us, one where in future election cycles it will be commonplace for all cable news channels to compete for the exclusive access of likely presidential candidates, so that never again does a network have a "Fox problem." Therefore, in 2013 don't be surprised to see Jeb Bush, possibly even Hillary Clinton and many others be the subject of bidding wars between news channels as a career in punditry benefits all while a candidate mulls their presidential prospects.
Have a tip we should know? tips@mediaite.com