Fox News Sunday Panel: Obama Is 'Un-Clintonian' And 'Always Scolding People'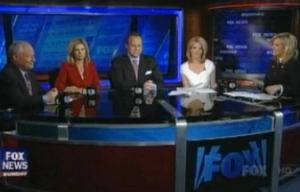 The ongoing budget battle between President Obama and congressional Republicans is giving many an opportunity to weigh in with their thoughts on Obama's governing style. While some Democrats believe Obama is not aggressive enough in the budget negotiations and other commentators think he is something else unflattering, at least one panelist during a conversation on Fox News Sunday suggested they are tired of seeing Obama always scold somebody.
Fox News contributor Nina Easton suggested Obama is "un-Clintonian" given his history that makes anyone unlikely to want to reach a compromise with him:
"This President has this M.O. in which he's always scolding people. So we go back to he was scolding Supreme Court Justices at the State of the Union. He was scolding his own colleagues as 'sanctimonious' when they didn't like extending the tax breaks. He invited Republicans to that speech earlier this Spring about the budget and scolded them right to their face after extending an invitation. And then this week, we hear him scold them because they're not like his daughters, they're not able to complete their homework assignment on time."
Bill Kristol also doubted a big deal would be reached on the budget, but actually thought that might be a good thing. He argued, why not save the big issues of what the size and scope of government should be for the election of 2012? And given that Obama and Republican leaders are now digging in with their positions, it seems like both sides might be in agreement that the next election should ultimately decide in which direction big changes should be made.
Watch the clip from Fox News below:

Have a tip we should know? tips@mediaite.com