Fox's Ed Henry Asks Jay Carney if Taxpayers Will Pay to Fly Michelle Obama Home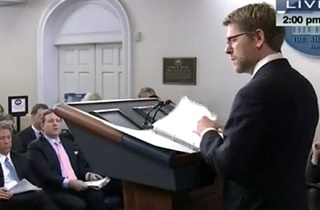 President Obama's and First Lady Michelle Obama's vacations have long been a topic of particular fascination for some media outlets, and a detail about their latest hiatus came up at the end of Monday's White House daily briefing. As White House Press Secretary Jay Carney tried to scoot off to a 2 pm meeting with the President and his advisers, Fox News Chief White House Correspondent Ed Henry cut in to ask Carney if the President would be paying for Mrs. Obama's flight home, since her extended vacation is an early birthday present.
"The First Lady stayed behind in Hawaii, and the White House said that was an early birthday present from the President. Does that mean he's paying for the flight back, or are the taxpayers paying for it?" Henry asked.
"As with all personal travel, the first family will appropriately fund personal expenses, Ed, and in line with past presidents and first ladies," Carney responded, adding "The First Lady will travel via government aircraft, but you are accurate in your description that this was a, her decision to remain in Hawaii, the President's suggestion that she remain in Hawaii to spend time with friends ahead of this very big birthday, if you have kids, you know that telling your spouse they can spend a week away from home is a big present. Not that we don't love our kids."
As Carney departed the briefing after another quick question, AURN's April Ryan informed Carney "Your beard already has a Twitter handle."
Here's the clip, from C-Span:
Have a tip we should know? tips@mediaite.com