Fox's James Rosen to State Dept Spox: Why Such 'Egregious Delay' in Capturing Benghazi Suspect?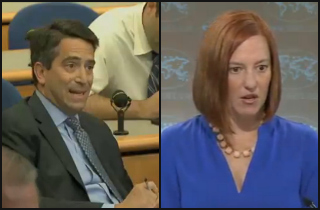 During Tuesday afternoon's State Department briefing, Fox News reporter James Rosen grilled spokeswoman Jen Psaki over the length of time it took to finally apprehend Benghazi suspect Ahmed Abu Khattala.
The suspect was arrested by U.S. forces in Libya this weekend, but he had never gone into hiding and, in fact, had conducted several press interviews over the past few years. When Psaki characterized the time between the September 11 siege and this weekend's arrest as "just a few years," Rosen expressed skepticism and pushed her on whether that constitutes an "egregious delay."
Psaki responded that the White House has taken "every step possible" to capture Khattala, but a "range of factors" made it difficult to do faster during the past two years.
Noting that Khattala had readily shown up for interviews with reporters, Rosen wondered why the U.S. Special Forces could not arrange for an "unscheduled meeting" with the suspected attacker and capture him sooner than "just a few years."
Psaki reiterated the "range of factors" line, prompting Rosen to outright ask why U.S. forces didn't simply disguise themselves as reporters to capture the suspect. In response, Psaki joked that she happily accepts Rosen's offer to volunteer himself for future missions of the sort.
"You're still not answering the central question, Jen," Rosen became testy. "You're not answering the question of why a reporter was able to get within six inches of this guy, and U.S. Special Forces weren't for more than two years."
Her reply, summarized: Reporters have often interviewed suspected terrorists in the past; but it is more complicated for governments to successfully get close to them in a similar manner.
Watch below:
[h/t Right Scoop]
— —
>> Follow Andrew Kirell (@AndrewKirell) on Twitter
Have a tip we should know? [email protected]