Fox's Jedediah Bila Knocks 'Knee-Jerk Reactions' Against Obama: 'Let the Man Speak'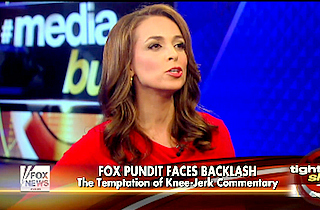 Outnumbered host Jedediah Bila talked to MediaBuzz's Howard Kurtz Sunday about a recent incident in which she said she received scores of hate mail/hate tweets after praising a speech of President Barack Obama. Scorning the "petty, knee-jerk reactions," she implied the conservative blogosphere undermined legitimate criticisms of Obama by going after every little thing.
"There are some people in the conservative community who feel that they need to criticize Obama at all times, whether he's saying something that needs to be criticized or not," BIla said. "There are people waiting with bated breath on Twitter, and you can just tell they're waiting to pick on something. …Give him a chance to speak! Let's see what he has to say!"
RELATED: Fox's Outnumbered Has the Answer to Every Problem: 'Do Something'
Bila managed to include the left in her criticism as well. "I saw my friends on the left do that for years to President Bush," she said. "The man could be talking about the weather and they could make it into a discussion about how he didn't care about climate change."
She also balked when Kurtz asked if she was including Fox News in her criticism, and in fact used the segment as an opportunity to praise her employer. "There are a lot of people who don't spew the talking points, and I think that's why we rate very well," she said.
Watch the clip below, via Fox News:
[Image via screengrab]
——
>> Follow Evan McMurry (@evanmcmurry) on Twitter
Have a tip we should know? tips@mediaite.com