Fox's Kelly and Ashburn Dismiss 'Media-Generated Controversy' over Redskins Name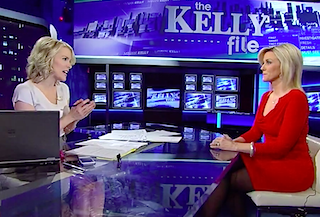 Megyn Kelly invited Fox News contributor Lauren Ashburn on her show Tuesday night to discuss the ongoing controversy over the Washington Redskins' name, which many Native Americans and other find offensive. But according to Kelly and Ashburn, this was no more than a "media-generated controversy" that doesn't merit anymore debate, let alone action.
"Why does this keep coming up?" Kelly asked. "I know they haven't changed it, but they said they're not changing it, period, end of report, and yet it's not going away."
Ashburn argued that it is "media-generated" controversy as opposed to a "public-generated" one and that the majority of Americans "don't care" about it all. When Kelly asked her about certain columnists who have decided to stop using the team name in their writing, Ashburn accused them of "obviously letting their bias get into their reporting."
RELATED: President Obama: 'I'd Think About Changing' the Washington Redskins Team Name
Playing devil's advocate, Kelly set up a scenario in which a pro football team had the "n-word" in its name and yet somehow the public did not support changing it. "There was a time in this country when the majority thought the way we treated blacks was just fine," she said, "and it took the voice of a vocal few to start a sea change."
But Ashburn was not buying that argument either, saying if that were the case, public opinion on the issue would have changed more in the decades since this debate has been in the news. In fact, if the team were going to change its name, Ashburn does not think it's the word "Redskins" that needs to go.
"Washington itself is a city and all the horrible stuff that's going on in Washington is more offensive to many people than Redskins," she said. "They should just take out the 'Washington' and not the Redskins."
Watch video below, via Fox News:
[h/t NewsHounds]
[photo via screengrab]
— —
>> Follow Matt Wilstein (@TheMattWilstein) on Twitter
Have a tip we should know? tips@mediaite.com