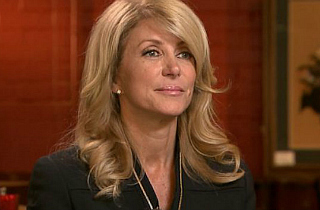 In 2013, state Sen. Wendy Davis' (D-Fort Worth) unsuccessful filibuster against a law that would prohibit abortions after 20 weeks and impose uniform health standards on abortion providers in Texas catapulted the previously obscure politician to progressive celebrity status. Urged by her enraptured supporters to make a bid for governor, Davis accepted and instantly surpassed San Antonio Mayor and 2012 Democrat National Convention keynote speaker Julián Castro as the presumptive nominee.
Today, as the realities of running for statewide office in a red state become clearer to Davis, she appears to have given up on so many of the positions that made her a Democratic superstar in the first place.
Davis first insulted the reflexively anti-firearm progressive wing of the national Democratic Party by embracing the position of her Republican opponent on the expansion of gun rights. She shocked the Northeastern political establishment when she announced her support for the right of average Texans to carry an unconcealed firearm in public.
In spite of their revulsion, many of Davis' already committed held their nose. But Davis further spurned the support of the loyal progressives she enchanted last year when she adopted a more centrist position on the singular issue that propelled her to fame.
In an interview with the Dallas Moring News editorial board, Davis said that she believes only 0.5 percent of all Texas abortion occur after 20 weeks of gestation and, in most cases, only after identifying fetal abnormalities or health risks to the mother. "I would line up with most people in Texas who would prefer that that's not something that happens outside of those two arenas," she said.
RELATED: Dallas Morning News Calls Out Wendy Davis for 'Blurring' Facts About Personal Life
And, with that, the face of the opposition to that divisive law abdicated that role. This is the latest in a string of efforts by Davis' campaign to soften her stance on abortion restrictions, but this and other statements stand in stark contrast to the state senator's pronouncements while she was still basking in the national media's limelight.
"Other women of course should be able to define their own destinies and this idea that the heavy hand of government should somehow come in and tell her how to do that is deeply resented in [a] state like Texas," Davis told The Huffington Post in June of last year. "It's deeply resented everywhere, but if you know anything about Texas, we hold very strongly to our traditions and our values where personal liberties are concerned."
"Sen. Davis' filibuster was a turning point," Allan Saxe, an associate political science professor at the University of Texas at Arlington, told the Fort Worth Telegram in December. "It is a perfect example of how events can turn things around quickly."
They sure can. Maybe the Lone Star State's Democrats will want to take a second look at the politician they have been grooming for years to become the face of their party in Texas now that Davis' novelty looks increasingly like amateurishness.
[Photo via screen grab/ABC]
— —
> >Follow Noah Rothman (@NoahCRothman) on Twitter
Have a tip we should know? tips@mediaite.com