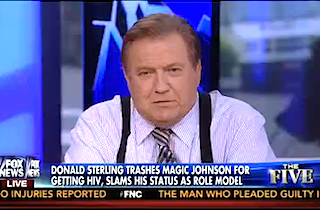 If you've spent anytime watching The Five on Fox News, you'll know that Bob Beckel is the token "liberal" of the group. The one the four conservative hosts like to gang up on and make fun of for his crazy, progressive beliefs, like climate change is real and Benghazi is not a controversy.
But then again, Beckel has also expressed some views that fit more neatly beside Fox's more stereotypical conservatives; and sound unlike anything a liberal would say out loud. For example: "If it were up to me, I would not have another mosque built in this country until we got it worked out who was not a terrorist."
Well, today, at the tail end of a discussion about Donald Sterling's verbal attacks on Magic Johnson, who has been living with HIV for the last 22 years, Beckel had this to say:
"You know about HIV? I just want to say one thing here. It was the Reagans, Ronald and Nancy Reagan, who came out on HIV early and broke the taboo, really. When Rock Hudson got AIDS. And I have always admired the Reagans for that."
And just like that, the show moved onto its next topic without comment.
There were likely a lot of Fox viewers out there happy to see liberal Bob Beckel saying something nice about Ronald Reagan, but unfortunately, they were devastatingly misled. And since none of Beckel's colleagues on The Five moved to correct him, we will have to do that here.
Rock Hudson, who was a personal friend of the Reagans, died of AIDS in 1985. The HIV/AIDS epidemic was first reported by the mainstream press in 1981. President Reagan did address the existence of HIV/AIDS for the first time two months after Hudson's death when he was specifically asked about the disease during a 1985 press conference and mostly sympathized with parents who wanted to keep children who had been diagnosed as positive out of schools.
He did not publicly address the larger issues surrounding the epidemic for another two years. In his first major speech on the issue, on June 1st, 1987, Reagan finally said, "'AIDS is surreptitiously spreading throughout our population, and yet we have no accurate measure of its scope. It is time we knew exactly what we were facing. And that is why I support routine testing."
As historian Michael Bronsky wrote in 2003, "By the end of that year 59,572 AIDS cases had been reported and 27,909 of those women and men had died."
Reagan's reluctance to talk about HIV/AIDS for six long years was so striking that it inspired the slogan used by activists through the first half of the 1980s: "Silence = Death."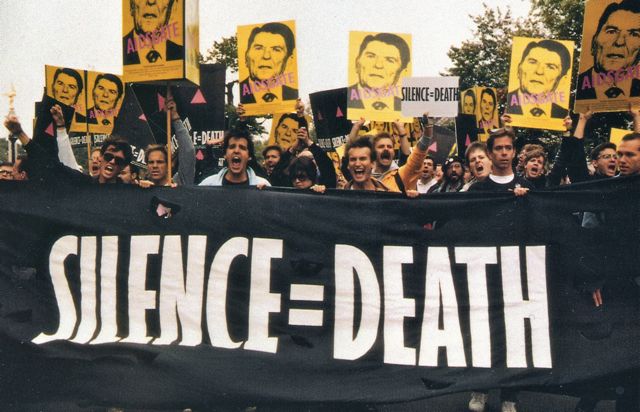 So, while Beckel may "admire" the Reagans for their "early" response to the disease, the rest of the world remembers something very different.
Watch video below, via Fox News:
[Photos via screengrab/In Our Words]
— —
>> Follow Matt Wilstein (@TheMattWilstein) on Twitter
Have a tip we should know? tips@mediaite.com