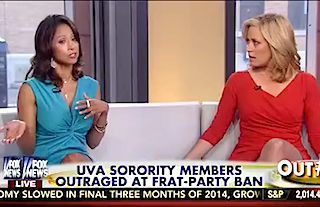 Growing concerns about rape on college campuses have led national sorority offices to issue bans on members attending fraternity parties at the University of Virginia. And in addition, Dartmouth College has decided to ban hard liquor on campus in an attempt to reduce sexual assault. During Friday's Outnumbered, Fox News contributor Stacey Dash called these measures "ridiculous."
"I think it's a good thing for the good girls, to be told stay home, be safe," Dash told her co-hosts. "The other bad girls — bad women — are the ones who like to be naughty, might go out and play and get hurt and then, you know," she said, trailing off.
"But the other thing about this is that it then blames the alcohol instead of the person who over-drinks," she continued. "So it's like, the same thing with guns. Guns don't kill people. People kill people. Alcohol doesn't get you drunk. You get yourself drunk."
RELATED: Fox's Stacey Dash Refuses to Believe That Mitt Romney Isn't Running
"I do feel for some of these fraternity guys, because you look at UVA — none of them have been convicted of anything," Andrea Tantaros added. "They step foot on college, and they're immediately considered to be guilty. I mean, girls are given rape whistles, and boys aren't allowed at frat parties."
"Either women can handle liquor make responsible choices or they can't, and they're a bunch of babies that need to be kept away from liquor and boys," she concluded.
Watch video below, via Fox News:
[h/t Gossip Cop]
[Photo via screengrab]
— —
>> Follow Matt Wilstein (@TheMattWilstein) on Twitter
Have a tip we should know? tips@mediaite.com