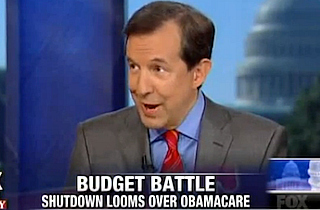 Fox News Sunday host Chris Wallace said Sunday morning that he'd received opposition research from other Republicans about Senator Ted Cruz (R-TX) in advance of Cruz's appearance this morning, a serious indication of how upset the GOP is with the Senator leading the risky charge to defund ObamaCare.
"This has been one of the strangest weeks I've ever had in Washington," Wallace said. "As soon as we listed Ted Cruz as our featured guest this week, I got unsolicited research and questions, not from Democrats but from top Republicans, to hammer Cruz."
"This was a strategy laid out by Mike Lee (R-UT) and Ted Cruz without any consultation with their colleagues," said Karl Rove. "With all due respect to my junior Senator from Texas, I suspect this is the first time that the end game was described to any Republican Senator. They had to tune in to listen to you to find out what Ted's next step was in the strategy."
RELATED: GOP Rep. Peter King Unloads on Sen. Ted Cruz, 'He Should Keep Quiet'
"You cannot build a Congressional majority, in either party, for any kind of action, unless you are treating your colleagues with some certain amount of respect, and saying, 'Hey, what do you think of my idea?'" Rove said. "Instead they have dictated to their colleagues through the media, and through public statements, and not consulted them about this strategy at all."
Rove also corrected Cruz's interpretation of a Wall Street Journal as giving the GOP the advantage on whom Americans trust on health care. "I wish that were true," Rove said, pointing out that Democrats still held the advantage, but were at an historically low number.
Watch the clip below, via Fox News:
[Image via screengrab]
——
>> Follow Evan McMurry (@evanmcmurry) on Twitter
Have a tip we should know? tips@mediaite.com