Fred Willard Offers Jimmy Fallon Hilarious Explanations For His Masturbation Arrest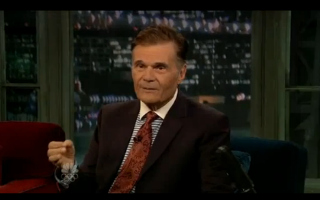 A week after his arrest for "lewd conduct" in a Los Angeles adult theater, comedian Fred Willard sat down with Jimmy Fallon to discuss the public masturbation scandal that cost him a job with PBS. Willard laughed off his arrest with a slew of hilariously self-deprecating one-liners and jokes about his experience at the theater.
"Jimmy — what do you want to talk about first?" Willard joked as soon as he sat down at the couch. "Let me say this: It's the last time I'm gonna listen to my wife when she says, 'Why don't you go out and see a movie?'"
He continued on, "I see this one [theater]. It had such an exotic look to it. I thought maybe there's hula dancers in there. Maybe there's Mai Tais!"
– RELATED: Actor Fred Willard Arrested For Masturbating In Adult Movie Theater
"I went in and I realized I was the only one awake and sober… and conscious," he joked to much audience laughter. "It was like a trip down Alice in Wonderland and down the rabbit hole."
The two comedians then traded one-liners about which exact movie he went to see:
FALLON: Well, the movie you went to see… was it The Firm?
WILLARD: No.
FALLON: Was it Free Willy?
WILLARD: No.
FALLON: Was it Anaconda?
WILLARD: No — sadly, it was Get Shorty.
FALLON: But I think at the end of that movie, someone gets whacked.
Willard then offered a heartfelt explanation for the whole ordeal. "It's very embarrassing," he confessed. "It's embarrassing as hell! But let me say this: nothing happened. I did nothing wrong, everything's being sorted out as we speak."
"I have great respect for the authorities," he continued. "When we need a policeman, God bless 'em, they're there. But, if you're in the wrong place at the wrong time, everything seems suspicious."
– RELATED: Fred Willard Fired By PBS Following Arrest For Masturbating In Adult Theater
He reiterated how embarrassed he is, and added that it has been "Very painful, and I'm trying to laugh it off."
And laugh it off he did, concluding that "my summary of the evening is that it's an interesting theater, boring movie, and a great place to take a nap."
Watch the interview below, via NBC:
>> Follow Andrew Kirell (@AndrewKirell) on Twitter
Have a tip we should know? [email protected]