Gamblin' Man: Romney Challenges Rick Perry To $10,000 Bet During GOP Debate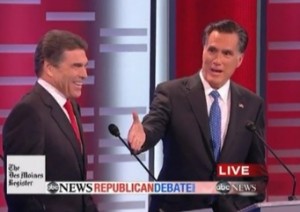 Pop quiz, hotshot. You're in a nationally televised debate for the presidency, at a time of tremendous economic hardship, trying to endear yourself to a socially conservative audience in Iowa. What do you do? What do you do?
Well, if you're Mitt Romney, apparently the answer is high-stakes gambling. Romney actually challenged Rick Perry to a ten thousand dollar bet onstage. Really. It's a shame, too, because Romney had just won the crowd over with his opposition to the Newt Gingrich Moonraker project we all just learned about.
In Romney's defense, he didn't really have another move, as Texas Gov. Rick Perry was pressing him on his inconsistent positions on the individual insurance mandate. "I'm listening," Perry said. "I'm hearing you say all the right things. But I read your first book and it said in there that your mandate in Massachusetts, which should be the model for the country — I know it came out of the reprint of the book, but, you know, I'm just saying, you were for individual mandates, my friend."
"You know what, you've raised that before, Rick. and you're wrong," a testy Romney replied.
It was true then, it's true now…" Perry said.
"Rick, I'll tell you what, 10,000 bucks, $10,000 bet," Romney said, extending a hand.
Perry hesitated, left Romney hanging. "I'm not in the betting business."
Romney continues to insist that he never posited his mandate as a national solution, but as readers of this site well know, that simply isn't true. I'll bet a fiddle of gold.
Here's the clip, from ABC News:
Update: ABC's Jake Tapper fact checks the bet and has reaction to it below:
Have a tip we should know? tips@mediaite.com