George Zimmerman's New Lawyer Speaks Out: 'I've Seen Only What Has Been In The Media' (Update)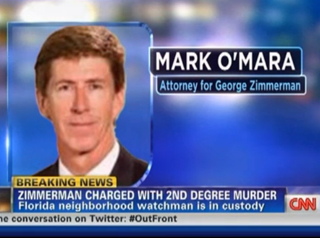 With George Zimmerman's former attorneys leaving the Trayvon Martin saga with a bang yesterday evening, his new attorney, Mark O'Mara, appeared on Erin Burnett Outfront today to give an update on just how far he was in getting informed an prepared for the trial. As he told host Tom Foreman tonight, he knows nothing more than "what has been shown in the media," but even with his initial information, he is "surprised" at the high charges.

RELATED: Special Prosecutor Charges George Zimmerman With Second Degree Murder
O'Mara told Foreman he was surprised, but that the prosecutor "knows the evidence, I don't yet, so it's hard to comment on what I haven't seen yet." He added vaguely that "that type of crime [second-degree murder] suggests that he did something truly unlawful," when he thought "there is at least question and controversy over what happened." Asked if he had much time to review the case, O'Mara replied, "I truly am that new to it, I've seen only what has been shown in the media, I have had no other contact with the case. So it's really difficult for me to speak at all." He added that the next fifteen days will bring discovery procedures, so he will have time to quickly catch up with the details.
O'Mara told Foreman he was very concerned about the media attention. "Yes, any high profile case has a lot of elements to it and a lot of extra problems to it," he answered, before excusing himself to go deliver a press conference.
The interview via CNN below:

Update: O'Mara ended the CNN interview and walked out to deliver a press conference, where he told the media to "please do not pre-judge George Zimmerman" and that he did not contact Zimmerman for the job.
The full press conference via Fox News below:

Have a tip we should know? tips@mediaite.com