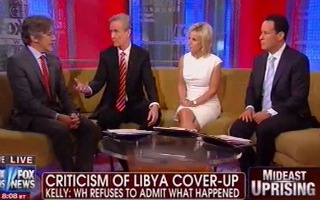 Geraldo Rivera battled the hosts of Fox & Friends on Friday morning as they discussed the latest revelations surrounding President Barack Obama's administration's failure to prevent the deadly September 11 attack on the American consulate in Benghazi. Rivera told the panel hosts and the viewers at home to "stop this politicizing" the attack in Libya. He insisted that "prudence dictates" the investigation into the attack be postponed until after the election because the political atmosphere is too charged to determine what happened dispassionately.

RELATED: Brian Williams Asks Obama About Libya Attack, Lack Of Visits To Israel On Rock Center
After playing a clip of Rep. Mike Kelly (R-PA) who criticized the administration for their response to the attack on the Benghazi consulate, Rivera called on all those advancing unfounded criticism of the administration.
"This is preposterous this notion that the Pentagon was monitoring this in real time," Rivera said.
"No, the State Department was monitoring in real time," Steve Doocy shot back.
"These drones did not get overhead until two hours after the attack began," Rivera countered. "People, stop. Stop this right now with this whole notion of live TV, and why didn't we respond. It is not what happened."
"I think we have to stop this politicizing," Rivera added. "We're getting away from the real issue which is why wasn't there security before this happened. But these preposterous allegations – reckless allegations that paint a picture of some fat bureaucrat watching TV – I think that's really beyond the pale."
Brian Kilmeade said that Sen. John McCain (R-AZ) told him that there are tools that the military could use in this situation to clear out an area under siege. Rivera replied that there was chaos and smoke and it would have been impossible to get an accurate view of events on the ground as that attack was ongoing.
Rivera said that he has spoken to a number of lawmakers who said that the election is clouding the investigation into the attack in Libya. "Prudence dictates that these hearings be postponed until November 15 when they will determine what happened," said Rivera.
"Don't have that kind of time," Kilmeade shot back.
"Don't you think the American people need to know the answer before they vote," Gretchen Carlson asked.
Rivera replied that there was already enough damning information out to satisfy voters inclined to vote against the president.
Watch the clip below via Fox News Channel:
> >Follow Noah Rothman (@Noah_C_Rothman) on Twitter
Have a tip we should know? tips@mediaite.com